IBC 2021
–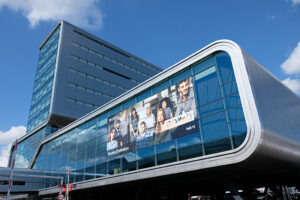 Every year IBC provides you with an unparalleled platform to meet, address and learn from  56,000+ of the most engaged power brokers, press and prospects  in international electronic media and entertainment. The several busy exhibition halls, themed by creation, management and delivery are complemented by a host of  feature areas  specially designed to enhance visitors' experience.
The IBC Exhibition covers fifteen halls across the RAI and hosts over 1,700 exhibitors spanning the media, entertainment and technology industry.
Combining a world-class exhibition with specially curated feature areas and events, the IBC Exhibition provides the perfect platform for you to network and build relationships with suppliers and customers, discover the latest trends and technologies and drive your innovations and strategy.
Public exhibition space is available to suit every budget and requirement, from turnkey and pre-built pods and shell schemes to large stands that you can design and build yourself. Taking part in the exhibition allows you to demo products and host gatherings to source new business and to organise meetings and lead in person discussions to close sales.
Private meeting space is also available when a more intimate and relaxed setting is required for deliberate, pre-booked, tailored workshops and critical business meetings with customers, global teams and partners.