Technical Support Engineer, DACH region (m/f)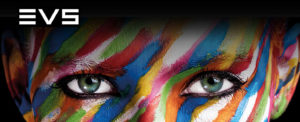 EVS is globally recognized as the technology leader for live video production. The company introduced Live Slow Motion replay in 1994, and has continued to build on its reputation for quality and reliability with solutions that enhance live sports, entertainment and news content. Innovations – such as the C-Cast multimedia platform and DYVI IT-based switcher – are raising the bar for live production enrichment, management and distribution. Broadcasters, rights owners, producers and venues alike use EVS to maximize the value of their productions and increase revenue streams. The company is headquartered in Belgium with around 500 employees in offices in Europe, the Middle East, Asia and North America, and provides sales and technical support to more than 100 countries. EVS is a public company traded on Euronext Brussels.
Technical Support Engineer, DACH region (m/f)
The Technical Support Engineer assists and supports a wide range of IT-based broadcast systems, ranging from EVS core video servers touser interfaces and media contribution systems. EVS prides itself on its level of customer support and the Technical Support Engineer, DACHwill be expected to act on his/her own initiative communicating with other departments where necessary to resolve issues. This role is adirect customer facing position that will directly convey the EVS message to customers and the EVS Product families.
Location: Munich
JOB DESCRIPTION
Provide client support and technical issue resolution via phone, email, and other electronic medium
Resolve technical enquiries relating to the EVS product families
Occasional on-site customer visits in local and EMEA Region
Where necessary escalate issues in accordance with the escalation process, provide customers and the field with regular progress reports on any issue
Provide training to clients in the use of systems and applications
Categorize and submit customer issues through support ticket system
Log and verify bugs found through support tickets
Configure complete proprietary video systems for sales and/or support needs
Configure Windows based equipment and network switches
Obtain general understanding of application operations as related to company products & services
PROFILE
Degree in IT/Media Engineering
Ability to troubleshoot/resolve of a wide variety of IT-Broadcast System issues
Familiarity with Broadcast systems, file based production workflows a plus
Knowledge of Broadcast equipment, routing, audio/video
Knowledge of media file wrappers, encoding codec's and video servers would be beneficial
Terminologies used: SMPTE-2022, ST-2110, 12G, UHD, HDR, IaaS,
Experience with IT networking, switching, domain controller, active directory, DNS, SQL & database operation
Computer OS knowledge, Windows, Win Server, Linux desired
Analytic thinking and ability to clearly document customer issues
German (main language), English, verbal & written communication skills are mandatory. Any other language is an asset
Respect, approachability and dedication to customer service are essential
Please send your detailed CV to: Olivier LEJEUNE, o.lejeune@evs.com, T: 089 4111 949 41
EVS Deutschland GmbH, Feringastr. 12b, 85774 Unterföhring, www.evs.com
PDF-Download der Stellenanzeige