FilmLight Colour Day
–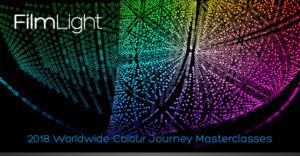 Munich.
Wednesday, October 24.
City Filmtheater.
Join us for live presentations and practical discussions on look development, colour space management and new grading tools – followed by a networking 'Happy Hour' at the Fimwirtschaft to celebrate the one-year anniversary of our Munich office.
13:00-14:30. Colour Management: the Basics
How do you approach producing and finishing projects in a device-independent way? Daniele Siragusano explains the fundamentals of the colour management pipeline, from the scene in front of the camera, all the way to the light emitted by a display.
15:00-16:00. Grading Strategies for HDR projects
Explore the added value, possibilities and pitfalls of HDR finishing and how to setup a grading pipeline to deliver both HDR and SDR.
16:30-17:30. Natural Colours and Textures
In this session, the focus will be on the first principles of natural colours and texture, including the fundamental differences between the real world and modern HDR wide-gamut image reproduction.
18:00-18:30. Baselight v5.2: what's new?
Using the latest version of the Baselight grading system, Andy Minuth will demonstrate the new features of Baselight 5.0, 5.1 and 5.2, bringing the previously learned information into practice.
Each session finishes with a Q&A. The event is free for all registered attendees, but space is limited, so please register early.