IBC
–
Die International Broadcasting Convention (IBC) in Amsterdam ist neben der NABShow in Las Vegas die zweite wichtige Messe der Branche. Mit offiziellen Besucherzahlen in der Größenordnung von 55.000 ist die Messe international etabliert. Die IBC gliedert sich in einen Konferenzteil und einen Ausstellungsteil.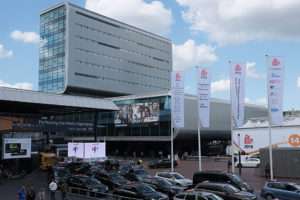 About IBC
Since 1967, IBC has grown to become the most influential annual event for professionals engaged in the creation, management and delivery of electronic media, worldwide.
Originally the International Broadcasting Convention, IBC has evolved from its technical broadcast roots and today it encompasses the whole breadth of media creation management and delivery, from online content to digital cinema, from automated workflows to high resolution capture and display.
IBC remains the principal event for the industry, and it continues to go from strength to strength. It now attracts more than 55,000 attendees, drawn from more than 170 countries, each September in Amsterdam.
The peer-reviewed technology conference remains the place to launch the most important new thinking. A fundamental part of the IBC Conference are the Technical Papers which sit alongside a wide-ranging programme of panels, discussions and keynotes, which have attracted not just broadcast leaders but luminaries as varied as Professor Brian Cox and will.i.am.
The conference is matched with a comprehensive exhibition which brings together close to 1,600 exhibitors, each showcasing the state of the art in technology. IBC is unrivalled as a place to meet and share knowledge, and its networking opportunities and value added events – from awards to movie screenings – really contribute to the worth of attending.
To meet the demands of this new and hugely expanded market IBC continues to create innovative ways to engage with its audiences, including the introduction of the Rising Stars programme aimed at helping the new generation of content and media technology professionals find their feet in the industry, and the exclusive invitation-only Leaders' Summit, an event for 150 leaders of the electronic media and entertainment industry shaping future strategy. IBC has also created a new series of events – IBC Content Everywhere – which take IBC's excellence in new directions.
All of the experience and knowledge of IBC, run by the industry for the industry, is reflected in this new global event, which looks to the connected future. IBC Content Everywhere demonstrates the changing nature of the world of connected electronic media. Like IBC it provides a forum for debate and discovery of the business, technical and creative opportunities, but IBC Content Everywhere reflects the very different nature of media connectivity in an IP world giving it a unique and carefully tailored look and feel.
A short history of IBC
The first IBC was held in 1967, in the Royal Lancaster Hotel in London. There were just 32 exhibitors and 500 conference delegates, and of course broadcasting was a very different business.
In the 1960s broadcasting was very much an analogue world, where the introduction of colour television was still a new innovation. What would have been the reaction of the delegates to that first IBC to be told that, 45 years on, not only would they have a computer on their desk but that it would be capable of editing high definition video. And that they would carry a telephone in their pocket wherever they went in the world – which would also be an HD video camera?
IBC lasted just one year in the Royal Lancaster Hotel before needing more space. It went to the Grosvenor House hotel on London's Park Lane for a period, with a venture to the Wembley Conference Centre, before heading south to Brighton. At first the Grand Hotel in Brighton could accommodate it, but rapid growth meant that it ended up filling the Metropole Hotel and the Conference Centre as well – and one memorable year there was a pavilion on the beach, too!
But by 1990, the lack of exhibition and meeting space – and a chronic shortage of hotel rooms – had reached crisis point. Under the inspired and visionary leadership of John Wilson, IBC embarked on a programme of dramatic change.
The first IBC came about because a group of manufacturers wanted to organise an exhibition. From 1968 it was managed by the Institution of Electrical Engineers (IEE) – now the IET, following the merger between IEE and IIE in 2006 – with advice from the RTS, as an event (now a conference as well as an exhibition) run by the industry for the industry.
Under Wilson's guidance, IBC became an independent body, owned by six partner bodies: IABM, IEEE, IET, RTS, SCTE and SMPTE, with a full-time professional staff. The strong association with these leading trade bodies, and the committee structures for exhibition and conference, ensured that the event was still run by the industry for the industry, but the dedicated staff meant that the organisation could be much more flexible and responsive.
IBC also moved from the UK to the Netherlands. After very careful research into venues capable of meeting the very specific demands of IBC, the Amsterdam RAI was chosen, hosting its first IBC in July 1992 (the normal September dates not being available that year). From 1994 IBC became an annual event, and it has remained in Amsterdam ever since.
Today IBC's management is continually looking at ways to develop the event to meet the rapidly changing needs of the industry. It has extended its reach, for example, becoming one of the most influential events in digital cinema worldwide, thanks to its ability to demonstrate to the very highest standards as well as host top-level debates. It has also extended its reach into other digital communications media, like mobile television and digital signage.
IBC remains the leading event on the global stage for everyone involved in content creation, management and delivery. By remaining close to its industry roots it continues to deliver a conference and exhibition which are comprehensive, stimulating and relevant to the real needs of its visitors.