Birds Camera Solutions

Kontakt:
Birds Camera Solutions GmbH
Alfred-Nobel-Str. 5
DE-55411 Bingen am Rhein
Telefon: +49-6721-4008-0
Fax: +49-6721-4008-27
https://www.birds-cam.de/
info@birds-cam.de
Information:
Birds Camera Solutions präsentiert eine breite Palette von Spezialkameralösungen, von Stand-Alone-Remote-Köpfen bis hin zu anspruchsvollen Seilkamerasystemen.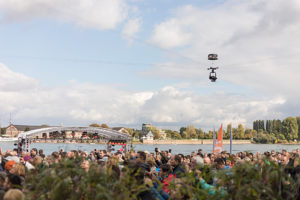 Kernprodukte sind Seilkamerasysteme. Hochwertige Leistung, leichtere Köpfe und intelligentere Bewegungssteuerung machen Robycam zur ersten Wahl für spektakuläre Bilder.
Die Birds-Camera-Systeme eignen sich für temporäre Veranstaltungen, aber auch für Festinstallationen. Die Systeme sind für Vermietung und Verkauf verfügbar.
Alle Systeme verfügen über eine native Augmented-Reality-Integration und können in alle gängigen AR-Systeme integriert werden, um genaue Tracking-Daten über Kameraposition, Ausrichtung und Objektivparameter zu liefern.
Alle Systeme entsprechen der deutschen Sicherheitsnorm DGUV 17/18 (ehemals BGV-C1) und erfüllen alle anderen wichtigen nationalen Sicherheitsanforderungen. Der Dolly kann innerhalb der erlaubten Grenzen nahezu vollkommen frei bewegt werden, es können aber ebenso sicher blockierte Zonen definiert werden. Die Sicherheit ist ein inhärentes Merkmal der Systeme, sie bleiben stets sicher kontrollierbar.
Referenzen, Beispielinstallationen: zahlreiche Spiele der deutschen Fußballbundesliga, Biathlon World Cup in Ruhpolding, Neujahrsparts am Brandenburder Tor in Berlin, Biathlon World Cup 2018, »Sportler des Jahres«, Champions League, Tennis, Galas, Stihl Timbersports World Cup 2016, The Voice of China, X-Factor, Emir Cup Qatar und viele weitere.