Filmlight

Kontakt:
Artists House
14-15 Manette St
London
W1D 4AP, UK
Tel.: +44.(0)20.7292.0400
Fax: +44.(0)20.7292.0401
info@filmlight.ltd.uk
www.filmlight.ltd.uk
www.filmlightcolourawards.com/
FilmLight develops unique colour grading systems, image processing applications and workflow tools that are transforming film and video post-production and setting new standards for quality, reliability and performance. The company's streamlined metadata-based workflows employ robust products with the best creative tools, allowing creative professionals to work at the forefront of the digital media revolution 'at every stage' of modern workflows.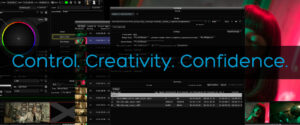 Founded in 2002, FilmLight's core business is centred on the innovation, implementation and support of its products—including Baselight, Daylight and Prelight—in leading production companies, post-production facilities and film/TV studios around the world. FilmLight is headquartered in London, where its research, design and manufacturing operations are centred. Sales and support are conducted through regional service centres and qualified partners worldwide.
We want to keep the values that have made our products such a resounding success, so we write stable, highly productive software that runs on the best PC components, and if we need more performance, we develop our own hardware. Where there is a choice to be made we do not compromise—we always engineer for quality and reliability.
We've come a long way since 2002. Our clients are all over the world and range from major film studios and national broadcast television providers, to production and post-production companies both large and small. Being a customer is still very fresh in our memory, so we try to stay personal and accessible and make our business easy to deal with. Based on the feedback from our customers, it works.

Unrivalled support and training
FilmLight has built up a strong and friendly user community through working closely with customers and other members of our industry for many years. Our renowned customer support offers you not only global follow-the-sun telephone and email contact directly with our product engineers, but also provides project advice, training, installation and expert consultancy services.
We regularly host online webinars and post other video content to help you learn more about Baselight and get the most out of your colour grading system.
We also run the Baselight Learning Programme, where you can get access to a free 90-day licence for Baselight STUDENT 5.3, our software-only macOS training application.