Integrated Systems Europe
–
Messe für AV- und elektronische Systemintegration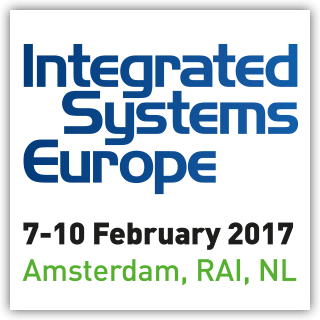 The first Integrated Systems Europe (ISE) tradeshow was held in Geneva, Switzerland in February 2004. Since then, the annual event has grown from 120 exhibitors and 3,500 visitors, to a record-breaking 13th year that saw ISE 2016 welcome more than 1,100 exhibitors and over 65,000 visitors through the doors of the Amsterdam RAI.
This confirmed ISE's position as the largest AV and systems integration show in the world.
The organisation behind ISE – Integrated Systems Events LLC – is a joint venture between InfoComm International andCEDIA, the two leading industry associations for the global audiovisual industry.
As well as ISE, Integrated Systems Events LLC organises a series of industry conferences during the year. This includes Digital Signage Summits in Munich, Dubai and Moscow (DSS Europe, DSS MENA and DSS Russia), the Smart Building Conference (SBC) and the Capital Summit.
ISE 2016 once again occupied all 14 halls of the Amsterdam RAI. For the first time, the show grew from three to four days – a move that supports even more business, unearthed even more opportunities and deepened ISE's impact as a must-attend industry event.
The show prides itself on attracting new attendees each year. After attracting almost 60,000 attendees in 2015, another new attendance record was set in 2016 when over 65,000 visitors attended ISE 2016, of which 39% were attending for the first time. This adds up to a solid endorsement of the show's pulling power and a major incentive for ISE exhibitors to return and tap into the new business opportunities being presented. Maintaining its reputation for connecting new technologies, companies and end-user industries, ISE will continue to present an exciting show floor, featuring thousands of product launches, as well as a packed education and events programme.