EVS
EVS Headquarter
Rue Bois Saint-Jean, 13
B-4102 Seraing
Belgien
DACH
EVS Deutschland GmbH
Fraunhoferstr. 7
85737 Ismaning
Telefon: 089-4111 949-00
germany@evs.com
evs.com
WIR SCHAFFEN RETURN ON EMOTIONS
EVS ist weltweit führend in der Live-Video-Technologie für Broadcast- und New-Media-Produktionen. Unsere Leidenschaft und unser Ziel ist es, unseren Kunden zu helfen, fesselnde Geschichten zu kreieren, die den besten Return on Emotion auslösen. Mit einer breiten Palette von Produkten und Lösungen liefern wir täglich die fesselndsten Live-Sportbilder, mitreißende Unterhaltungsshows und aktuelle Nachrichteninhalte an Millionen von Zuschauern – und das in Echtzeit.
WIR BIETEN INTELLIGENTE LÖSUNGEN FÜR DIE LIVE-PRODUKTION
Das Jahr unserer Gründung im Februar 1994 durch Pierre L'HOEST und Laurent MINGUET, markiert auch das Jahr der Einführung unseres Live-Slow-Motion-Systems, das zur Standard-Wiedergabetechnik für alle übertragenen Sportereignisse auf der ganzen Welt geworden ist. Wir haben unsere führende Position in der Branche über die Jahre hinweg behauptet, indem wir auf unserem soliden und zuverlässigen technologischen Know-how aufgebaut und unser Produktportfolio erweitert haben. Heute bieten wir ein komplettes Set an Produkten und softwaregestützten Microservices an, die den Bedarf an einem flexibleren Ansatz für die Videoproduktion gut abdecken.
WIR INVESTIEREN IN DIE ZUKUNFT UNSERER KUNDEN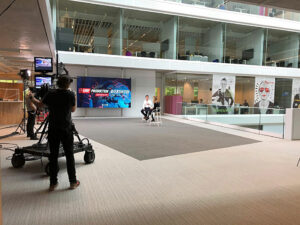 Wir unterstützen unsere Kunden dabei, mit der Entwicklung der Branche Schritt zu halten, und um dieses Versprechen einzulösen, investieren wir weiterhin in die neuesten Technologien. Durch unsere Pionierarbeit in den Bereichen IP, KI und maschinelles Lernen sind wir der Zeit immer einen Schritt voraus und stellen gleichzeitig sicher, dass unsere Kunden mit intelligenten und skalierbaren Lösungen ausgestattet sind, die heute und morgen die besten Live-Geschichten produzieren.
WIR SIND AUF DEM WEG, DAS HERZSTÜCK DES LIVE-ÖKOSYSTEMS ZU WERDEN
Der Erfolg unserer Kunden ist es, der uns antreibt. Unser Ziel ist es, für unsere Kunden ein verlässlicher Partner auf dem Weg zu schnelleren Highlights, höherer Effizienz und mehr Kreativität bei ihren Live-Videoproduktionen zu sein. Wir arbeiten hart an der Verwirklichung unserer Vision, die darin besteht, das Herzstück des Ökosystems für Live-Produktionen zu sein – ein Ökosystem, in dem unsere Kunden von unserer Connected Live-Technologie und unseren Creative Live-Lösungen profitieren können, die zusammen für die fesselndsten Zuschauererlebnisse sorgen.
DIE HERAUSRAGENDSTEN BÜROFLÄCHEN IN BELGIEN
2018 gewann EVS den CBRE-Wettbewerb »Office Space of the Year«, bei dem der attraktivste Arbeitsplatz in Belgien ausgezeichnet wird. Das 2015 erbaute HQ-Gebäude in Lüttich ist ein wahres Abbild der EVS-Unternehmenskultur, bei der das Wohlbefinden der Mitarbeiter dank einer angenehmen, inspirierenden und gesunden Arbeitsumgebung im Mittelpunkt steht.