Arri unterstützt »Kino Open Air« in München
Auf dem Königsplatz in München findet derzeit das 22. Kino Open Air statt — zum zweiten Mal unterstützt Arri diese Veranstaltung.
Vom 25. Juli bis 2. August 2016 findet in München das Kino Open Air auf dem Königsplatz statt. Wie im vergangenen Jahr schon, unterstützt Arri diese Veranstaltung als Sponsor. Zahlreiche Scheinwerfer des Unternehmens, darunter die SkyPanels, beleuchten die historischen Gebäude, die den Platz umrahmen: Propyläen, Glyptothek und die Staatlichen Antikensammlungen. Arri Rental betreut die Illumination.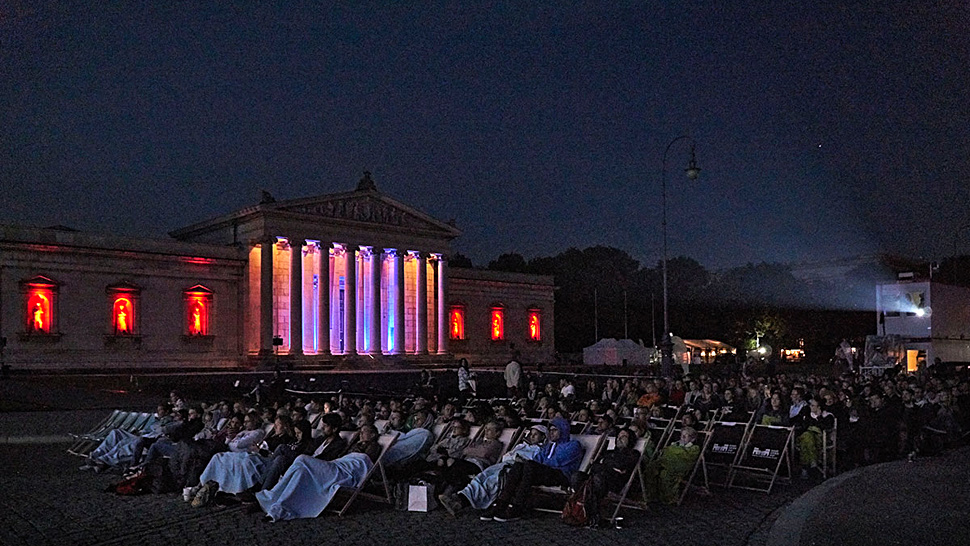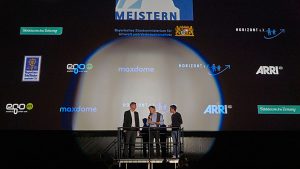 »Hier ist immer so eine traumhafte Stimmung«, sagte Veranstalter Alexander Wolfrum bei der Eröffnung und bedankte sich dafür bei Arri-Vorstand Dr. Jörg Pohlman. Der freute sich, dass das Münchner Publikum einen Eindruck von Arri-Technologie erhielt – und dass als Eröffnungsfilm »Der geilste Tag« von Florian David Fitz gezeigt wurde — in Anwesenheit des Regisseurs und Hauptdarstellers. »Der Film wurde mit unseren Kameras gedreht und mit unserem Licht ausgeleuchtet«, erklärte Pohlman. »Dazu kam noch Grip von Arri-Rental, und wir haben die Postproduktion in Berlin und München gemacht. Deshalb gibt es für uns als Sponsor keinen besseren Film, um hier anzufangen.«
Arri weist darauf hin, dass auch alle anderen Filme des diesjährigen Kino Open Airs mit Technik oder Dienstleistungen von Arri entstanden sind: Die Erfolgskomödie »Fack Ju Göhte 2« wurde mit der Digitalkamera Alexa XT und Objektiven aus der Master-Prime-Familie gedreht, von Arri kam auch Licht und Bühnentechnik, Arri Media war für die Postproduktion verantwortlich. »The Jungle Book« wurde ebenfalls mit der Alexa XT gedreht. Beim Blockbuster »Star Wars – Das Erwachen der Macht«, der überwiegend auf Film gedreht wurde, kam aber auch eine Alexa-Digitalkamera von Arri zum Einsatz. Der deutsche Regisseur Christian Ditter drehte sein Hollywood-Debüt »How to be Single« mit einer Alexa 65 und einer Alexa XT Plus. Und bei der Produktion von »Der Marsianer – Rettet Mark Watney« wurde Licht- und Bühnen-Equipment von Arri eingesetzt.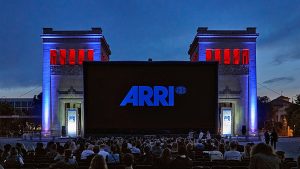 Bevor diese Filme beim Kino Open Air gezeigt werden, läuft jeweils ein aktueller Werbespot, den Arri Media produziert hat: Er stellt die Angebote von Arri vor und zeigt Ausschnitte erfolgreicher Filme, die unter Einsatz von Service-Leistungen oder Produkten des Unternehmens entstanden sind.