Pictorion Das Werk entscheidet sich für Iridas FrameCycler
Das Postproduktionshaus installiert das Review- und DI-System FrameCycler in allen Niederlassungen.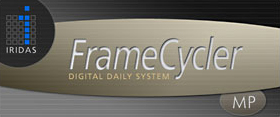 Pictorion Das Werk hat FrameCycler-Lizenzen für seine Niederlassungen in Berlin, Frankfurt, Hamburg, München und Düsseldorf gekauft. Mit dem Review-System soll unkomprimiertes Material wiedergegeben und analysiert werden.
»FrameCycler ist eine erprobtes System und unserer Meinung nach gibt es am Markt nichts vergleichbares dazu«, sagt Pictorion-CEO Roger Beck. Jürgen Firsching vom Vertriebshaus DVE ergänzt, dass Pictorion damit über die bislang größte FrameCycler-Installation in Deutschland verfüge.
»Derzeit setzen wir FrameCycler beim Thriller »One Way« und bei »In the Name of the King« mit Burt Reynolds ein. FrameCycler kann dabei jedes Format lesen, mit dem wir arbeiten, wir haben also keinen Leerlauf, weil wir Files konvertieren müssten«, berichtet Roger Beck. Er ergänzt: »Das Timeline-Interface gefällt uns besonders gut, weil es uns volle Kontrolle und Flexibilität gibt.«
Derzeit testet Pictorion Das Werk auch FrameCycler DDS als Review-System für längere Sequenzen. Mit dem, was man bisher gesehen habe, sei man sehr zufrieden, so Roger Beck.