5 Tipps für Kinoqualität – trotz knapper Produktionszeit
Die Filmproduktion Outside the Club produzierte in kürzester Zeit die zweite Staffel der Serie »Wishlist« mit aufwändiger Kino-Optik und vielen Spezialeffekten. Marc Schießer, Autor, Regisseur und Cutter bei Outside the Club gibt fünf Tipps, wie sich bei der Produktion viel Zeit, Aufwand und Budget sparen lassen.
Outside the Club ist eine Wuppertaler Filmproduktion, die hochwertige Filmprojekte realisiert. Aushängeschild der Filmproduktion ist die preisgekrönte Serie Wishlist, eines der innovativsten und aufwändigsten jungen Formate, die in Deutschland in jüngster Zeit produziert wurden.
Marc Schießer ist Autor, Regisseur und Cutter bei Outside the Club und war unter anderem auch an der Produktion der Serie Wishlist beteiligt. Die Serie wird auf der Website von Funk sowie einem eigenen YouTube-Kanal gezeigt.
Marc Schießer gibt in diesem Beitrag Tipps, wie man es trotz knapper Produktionszeit schaffen kann, viel Zeit, Aufwand und Budget zu sparen.
1. In hoher Qualität schneiden
Mit Premiere Pro CC konnten wir das Rohmaterial nativ in 5K-Auflösung aus den Red-Kameras ohne Proxy-Dateien ins Schnittprogramm laden. Das ist wichtig für die hochwertige Optik. Die Clips liefen beim Schnitt rund und geschmeidig, wodurch wir unsere Ideen gleich live umsetzen konnten.
2. Effekte beim Schnitt selbst ausprobieren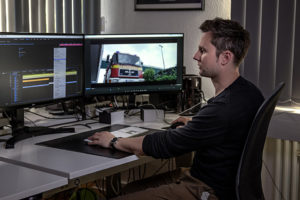 Mit Premiere Pro CC kann ich als Cutter auch ohne Compositing-Erfahrung Effekte schon in der Rohschnitt-Phase selbst ausprobieren. Um zum Beispiel Motion Blur auf einen Clip zu rechnen, genügt es, den Clip direkt in ein After Effects CC Format zu wandeln, dorthin zu laden, den Effekt zuzuweisen und dann zu speichern. Das Ergebnis kann ich im Schnittprogramm direkt sehen, ausprobieren und ändern.
3. Schnelle erste Schnittfassung erstellen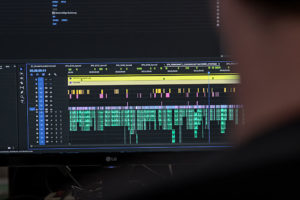 Schneiden heißt Entscheidungen treffen, und oft tut man sich damit schwer. Tipp: Die erste Phase durchlaufe ich möglichst schnell im Rohschnitt. Danach habe ich die Freiheit das Ganze wieder auseinander zu nehmen, damit zu experimentieren und mich in Details zu verbeißen – mit der Sicherheit der ersten Fassung.
Seite 1: In hoher Qualität schneiden, Effekte beim Schnitt ausprobieren, eine schnelle erste Schnittfassung erstellen
Seite 2: Shortcuts nutzen und eine XML-Übergabe für schnelleren Workflow realisieren

Übrigens: Wer wie die Profis von Outside the Club arbeiten möchte, kann Premiere Pro CC hier kostenlos testen.