Rohde & Schwarz mit 5G und mehr auf der NAB
Unter dem Motto »Supporting you today. And for the future« zeigt Rohde & Schwarz auf der NAB Neues aus den Bereichen Cloud, Playout, Broadcast, 5G und Speichersysteme. Erstmals tritt die Pixel Power Ltd. als Tochter des Unternehmens auf.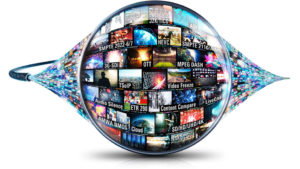 Rohde & Schwarz präsentiert die erste End-to-End-Lösung für LTE/5G Broadcast, die beim Projekt 5G Today im Testeinsatz steht. Broadcastern und anderen Inhalteanbietern soll künftig ein 5G-Ökosystem zur Verbreitung von AV-Content bereitgestellt werden. Das High-Power High-Tower (HPHT)-Konzept sichere eine hohe HDTV-Livequalität bei kurzen Latenzzeiten und hoher spektraler Effizienz und Reichweite.
IP-basierte Lösung für Monitoring und Multiviewer
Die Monitoring- und Multiviewer-Lösung R&S Prismon ist softwarebasiert. Das Multistandard-/Multiprotokoll-Konzept berücksichtigt zahlreiche Systemarchitekturen, darunter 3G-SDI, SMTPE 2110/2022 für UP-Netze und DVB etc. Entsprechend bietet Prismon eine einzige Plattform für verschiedenste Einsatzfelder, darunter A/V-Monitoring im Playout-/Contribution- und Distribution-Umfeld. U.a. werden Fehler in Video, Audio, Loudness, Untertiteln oder eingebetteten Inhalten erkannt. Broadcast- und Netzbetreiber werden bei der Kontrolle von Service Level Agreements unterstützt.
Hochperformante Speicherlösung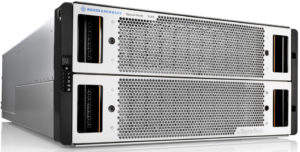 Das neue SpycerNode bietet ein einfach zu benutzendes Interface, ein High Performance Computing (HPC)-Filesystem, marktführende Erasure Coding-Mechanismen und viele weitere Funktionalitäten. Der R&S Device Manager wurde erweitert, um Konfiguration und Wartung des neuen Systems zu vereinfachen.
Playout mit Pixel Power

Pixel Power, das neue Mitglied der Firmengruppe, ist u.a. für Grafik- und Master Control-Produkte bekannt. Die integrierten Playout-Systeme organisieren die dynamische Bereitstellung von Inhalten auf diversen Plattformen vom linearen bis zum mobilen und online Fernsehen sowie über OTT/VOD. Die IP-Lösungen für cloudbasierte Anwendungen wurden für neue OPEX-Geschäftsmodelle erweitert. Unter neuem Namen hat die Tochterfirma eine strategische Aufgabe im Produktbereich Broadcast-Playout.
Neues Senderprodukt
Der VHF-Sender R&S THV9evo ist der Neuling der terrestrischen Sender für Radio und Fernsehen und berücksichtigt den neuen Standard ATSC 3.0. Die integrierte Signalanalyse erspart gesonderte Messtechnik, die mit 50 Prozent angegebene Energieeffizienz trägt zur Senkung der Betriebskosten bei.