Das Las-Vegas-Syndrom
Vielleicht kennen Sie ja das Jerusalem-Syndrom: Manche Menschen, die bis dahin eigentlich ziemlich normal waren, ticken komplett aus, wenn sie ein paar Tage in Jerusalem sind. Sie tauchen ein in einen religiösen Wahn, halten sich selbst für den Messias oder eine andere Figur aus der Bibel, schleppen Holzkreuze durch die Stadt, rutschen auf den Knien den Passionsweg entlang. Wie gesagt: Bis dahin galten diese Menschen eigentlich als ziemlich normal und sie sind nicht etwa mit dem Vorsatz nach Jerusalem gereist, um dort auszurasten. Es ist einfach passiert — und manche sind in diesem Wahn derart gefangen, dass sie ohne fremde Hilfe nicht mehr herausfinden.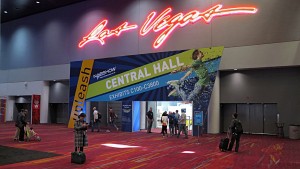 Wir von film-tv-video.de glauben, dass es auch ein Las-Vegas-Syndrom gibt. Es fällt in der Regel weit weniger dramatisch aus, aber es ist in seinen zahlreichen Erscheinungsformen vielleicht sogar noch vielfältiger.
Über das Jerusalem-Syndrom gibt es Filme und Artikel, das Las-Vegas-Syndrom ist weit weniger gut dokumentiert, auch wenn es Spielfilme wie »Leaving Las Vegas«, »Fear and Loathing in Vegas«, »Behind the Candelabra« (deutscher Titel: »Liberace – Zu viel des Guten ist wundervoll«) oder »Casino« gibt, die alle auch ein Stück des Wahnsinns dieser Wüstenstadt zeigen.
Viele Prominente wurden schon auf verschiedene Weise vom Las-Vegas-Syndrom befallen, Elvis, Liberace, Siegfried & Roy etwa. Es soll auch Leute in unserer Branche geben, die bei den zahllosen Versuchungen, denen man in Las Vegas ausgesetzt ist, nicht immer standhaft bleiben. Wir aber wollen den Blick lieber auf die eng mit unserer eigenen Branche verwobenen Themen richten und dabei einen der Jahreshöhepunkte des Las-Vegas-Syndroms in den Fokus nehmen: die NABShow-Zeit.
Mit insgesamt 49 Jahren NABShow-Erfahrung (23 Besuche, 21 Besuche und fünf Besuche bringt das Redaktionsteam zusammen), glauben wir durchaus, schon einiges gesehen zu haben. Massenhysterie und Massenhypnose gehören dazu: Vor ein paar Jahren etwa glaubten sehr viele Menschen plötzlich, Stereo-3D sei ein Thema für den Massenmarkt, für die gesamte Broadcast-Branche. Heute wissen wir, dass es anders kam.
Manchmal sind auch nur einzelne Firmen vom Las-Vegas-Syndrom befallen: Das können kleine Newcomer sein, die sich an der Spitze einer Revolution sehen und sich auf der von ihnen selbst erzeugten heißen Luft so weit nach oben schrauben, dass sie glauben, in Kürze die Weltherrschaft — oder mindestens die Branchenführung übernehmen zu können. So konnte man bei der NABShow über die Jahre viele Firmen kommen und gehen sehen.
Aber auch etablierte Firmen kann das Las-Vegas-Syndrom erwischen: Nach mehrtägigen Einpeitschveranstaltungen mit gegenseitigem Schulterklopfen, Powerpoint- und Prognosenmarathon, trübt sich bei manchem Produktmanager und Vizepräsidenten dann doch der Realitätssinn. Sich für etwas zu begeistern, für etwas zu brennen, kann enorme Kräfte freisetzen und soll hier nicht in ein falsches Licht gerückt werden. Sich aber wahnhaft auf etwas zu versteifen, sich gegenseitig dabei hochzuschaukeln und dabei letztlich die Realität aus den Augen zu verlieren, das heißt, dem Las-Vegas-Syndrom anheim zu fallen.
Wir jedenfalls sind gewappnet, werden uns nicht anstecken lassen und keiner Massenpsychose verfallen, sondern nüchtern und neutral von der NAB berichten. Versprochen.