NAB2018: Atomos mit ProRes-Raw Monitor/Recorder
Atomos unterstützt das von Apple neu vorgestellt ProRes-Raw-Format und wird es bei Shogun Inferno und Sumo 19 integrieren.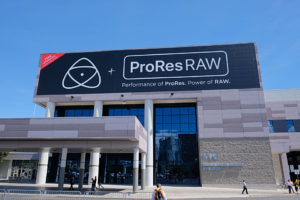 Die beiden Monitore/Recorder Shogun Inferno und Sumo 19 sind ab sofort in der Lage, die besten Signale von Panasonic-, Sony- und Canon-Kameras in Echtzeit aufzuzeichnen.
Camera to Timeline
Wenn das Update für ProRes Raw installiert ist, ist die Aufzeichnung in ProRes Raw und ProRes Raw HQ und auch die Wiedergabe dieses Materials möglich. Raw-Bilder lassen sich mit bis zu 12 Bit RGB auf SSD Medien aufzeichnen. ProRes Raw Files können direkt in Final Cut Pro 10.4.1 importiert und damit geschnitten und per Grading bearbeitet werden.
Unterstützte Kameras
Acht populäre Cinekameras mit Rawausgang werden von Beginn an unterstützt, darunter Panasonic AU-EVA1, Varicam LT, Sony FS5/FS7 and Canon C300mkII/C500.
Stunningly Beautiful, Simply Efficient
Mit Apples Vorstellung von ProRes Raw wird es möglich, hochwertige Raw-Signale effizient zu verarbeiten. Diesen Effekt nutzt auch Atomos bei der Integration dieses Codecs in Shogun Inferno und Sumo 19.
Für HDR gerüstet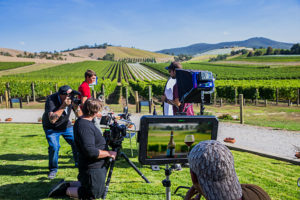 Die Aufzeichnung in ProRes Raw kann auch ein Mittel sein, um Aufnahmen fit für zukünftige Anwendungen zu machen, weil damit der höchste Dynamikumfang mit 12 Bit Farbtiefe und WCG Farbraum für spätere Auswertungen zur Verfügung stehen. Für HDR ist das essenziell.
Slow Motion und 5.7K
Atomos kann ProRes Raw in 2K mit bis zu 240 fps oder in 4K mit bis zu 120 fps aufzeichnen. Selbst höhere Auflösungen, beispielsweise die 5,7 K der Panasonic Eva1 werden unterstützt.
Portable ProRes Raw in AtomOS 9
Das Operating System AtomOS 9 ermöglicht laut Hersteller schnelle und bequeme Workflows: so lässt sich etwa die SSD für die Postproduktion via Thunderbolt 3 oder USB-C 3.1 einfach an den Mac anschließen, um das Material zu veararbeiten.