Report: Medientage München 2018
Die Medien-Gesellschaft der Zukunft wird geprägt von digitalen Innovationen, künstlicher Intelligenz, automatisierten Entscheidungssystemen, Big Data und Globalisierung, aber auch von aktiven Rezipienten, Social Media und der Personalisierung von Medienangeboten. Das ist das Resümee der 32. Medientage München.
Dieser Beitrag fasst jene der diskutierten Trends und Entwicklungen zusammen, die auch für Produktionsleute und für eher technisch orientierte Broadcaster interessant sind.
Neue Location, anderes Konzept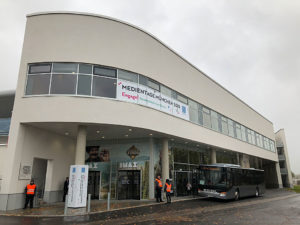 Die 32. Medientage München fanden erstmals im Conference Center Nord sowie der Halle C6 der Messe München statt. Eine Premiere war auch das Format der Auftaktveranstaltung. Die große Runde, die der eine oder andere noch kennt, gibt es in dieser Form nicht mehr – dieses Format habe sich mittlerweile überholt, so die Veranstalter.
Stattdessen diskutierte zur Eröffnung des Medienkongresses der TV-Moderator Klaas Heufer-Umlauf mit Medienmachern und -managern über aktuelle Trends und Themen der Medien-Branche. Das fand allerdings vielmehr nacheinander als miteinander statt – und das, obwohl sich doch die Medientage mit »Engage!« eine Unterzeile verpasst hatten, die ganz anderes einforderte.
Siegfried Schneider, Präsident der Bayerischen Landeszentrale für neue Medien (BLM), hatte bereits in seiner Eröffnungsrede darauf hingewiesen, Social Media und Algorithmen hätten die Art und Weise, wie Menschen mit Nachrichten und Informationen umgehen, grundlegend verändert. Deshalb müsse nun geregelt werden, wie wir unsere Autonomie bewahren könnten, »wenn Algorithmen darüber abstimmen, welche Nachrichten wir hören, welche Partner wir treffen oder wie wir uns in Dilemma-Situationen zu entscheiden haben«.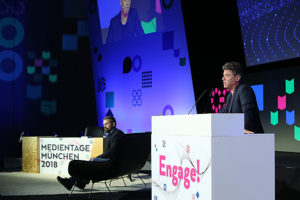 Dass es inmitten dieser Situation eine Regulierung braucht, forderte der britisch- amerikanische Internet-Kritiker und Autor Andrew Keen (»How to Fix the Future«). Eine politische Regulierung müsse die Privatsphäre, Persönlichkeits- und Verbraucherrechte schützen. Nur der Mensch, nicht die Technologie könne die Probleme der digitalen Gesellschaft lösen, lautete Keens deutlicher Appell.
Das war der Aufakt zu drei Tagen, in denen 400 Experten und über 7.000 Teilnehmer referierten und diskutierten. Am Ende der zahlreichen Panel-Diskussionen, Keynotes und Gesprächsrunden zog Stefan Sutor, der Geschäftsführer der Medientage, ein positives Resümee: »Wir haben in diesem Jahr besondere Akzente auf internationale Entwicklungen gesetzt. Außerdem haben wir das Programm nicht mehr so stark entlang der klassischen Medien-Sparten organisiert, sondern medienübergreifende Themen und Trends in den Fokus gerückt. Die neue Location gibt uns mehr Möglichkeiten, um Kongress und Messe noch besser zu verzahnen«.
Seite 1: Neue Location, anderes Konzept
Seite 2: Künstliche Intelligenz
Seite 3: Virtual Reality; Live-Entertainment im Sport und eSport
Seite 4: Blockchain: in aller Munde
Seite 5: Alexa verändert das Marketing; Diversity: immer noch ein Thema
Seite 6: Die Zukunft der Branche