Thomson erhält Emmy für SAN-Technologie
Thomson erhält den Emmy, der für wissenschaftliche und technische Errungenschaften verliehenen wird.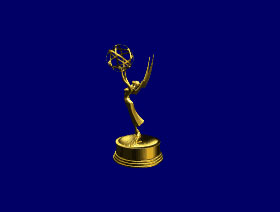 Ähnlich zum populäreren Oscar der amerikanischen Filmindustrie verleiht die US-TV-Industrie, vertreten durch die National Academy of Television Arts and Sciences (Natas), mit dem Emmy-Award einen jährlichen Preis in zahlreichen unterschiedlichen Kategorien. Unter anderem wird auch für technische und wissenschaftliche Leistungen, von denen die Branche profitiert, ein Emmy verliehen.
In diesem Jahr erhielt Thomson Multimedia einen Emmy, den das Unternehmen praktisch mit der Übernahme des Broadcast-Bereichs von Philips und letztlich von BTS geerbt hat: Ausgezeichnet wurde Thomson für Entwicklungen, die erstmals 1994 mit dem Video-Server Media-Pool umgesetzt wurden. Die Jury sah darin den grundlegenden, bahnbrechenden Entwicklungsschritt, der letztlich den Einsatz von Video-Servern im TV-Bereich und schließlich auch die jetzt so populäre SAN-Technologie ermöglichte.
Thomson sieht sich laut Marc Valentin, dem Vizepräsidenten der Division Broadcast & Networks Solutions von Thomson Multimedia, durch die von der Natas ausgesprochene Anerkennung und die Verleihung des Emmy geehrt und belohnt. Gleichzeitig weist das Unternehmen darauf hin, dass Thomson einen großen Teil der Patente innehat, die für SAN-Applikationen im Video- und Broadcast-Markt verwendet werden. Thomson schlägt auch die Brücke vom im Grunde kommerziell wenig erfolgreichen Media-Pool zum jüngsten Server des Unternehmens, dem Nextore, der allerdings wesentlich später und unabhängig von den damals konkurierrenden Produkten der Philips-Gruppe bei Thomson entwickelt wurde.