NAB2021 abgesagt
Der Messeveranstalter hat die NAB2021 offiziell abgesagt.
Noch vor wenigen Wochen hatte es so ausgesehen, als könnte die NAB zumindest für den US-Markt zu einer wichtigen Präsenzveranstaltung in diesem Jahr werden. Nun hat der Veranstalter die Messe offiziell abgesagt.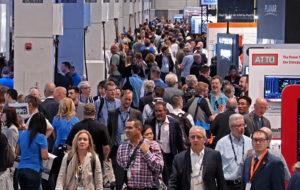 Der Veranstalter hat damit wohl die Konsequenzen daraus gezogen, dass in den Tagen zuvor schon wichtige Aussteller wie Aja, Canon, Lawo, Panasonic, Riedel, Ross Video, Rohde & Schwarz und Sony ihre Teilnahme abgesagt hatten.
Etliche andere Hersteller, darunter etwa Adobe, hatten sich schon lange im Vorfeld gegen eine Teilnahme bei der NABShow2021 entschieden.
Chris Brown, Executive Vice President und Managing Director of Global Connections and Events bei der National Association of Broadcasters, sagt:
»Seit mehr als einem Jahr haben wir unermüdlich daran gearbeitet, unsere Branche sicher in Las Vegas auf der NAB Show zusammenzubringen. Leider haben die Pandemie und der Anstieg der Delta-Variante uns vor unerwartete und unüberwindbare Herausforderungen gestellt.
Da wir die Sicherheit der Branche immer als unsere Priorität betrachtet haben, ist es angesichts dieser Herausforderungen offensichtlich geworden, dass wir die NA Show oder unsere gleichzeitig stattfindenden Veranstaltungen, die Radio Show und die Sales and Management Television Exchange, nicht mehr effektiv persönlich durchführen können.
Die NAB Show ist die erste Adresse für die Medien- und Unterhaltungsindustrie, und wir wollen keine Messe veranstalten, die weniger als die hervorragende Qualität liefert, die unsere Community von uns erwartet und verdient.
Auch wenn wir enttäuscht sind, dass wir im nächsten Monat nicht persönlich zusammenkommen werden, freuen wir uns darauf, bei der NABShow 2022 vom 23. bis 27. April 2022 zusammenzukommen, um unsere Leidenschaft für unsere Branche neu zu entfachen und uns auf eine glänzende Zukunft zu konzentrieren.«
Brown ergänzt, dass Details über virtuelle Events und ausgewählte Inhalte der NAB Show 2021 über NAB Amplify folgen werden.
(Dieser Beitrag ist am 13. September erschienen und wurde am 15.9.21 aktualisiert.)