IBC2016-Video: Nokia zeigt VR360-Live-Lösung Ozo Live
Nokia demonstrierte zur IBC2016 den aktuellen Stand seiner VR360-Kamera Ozo und stellte mit Ozo Live eine Multikamera-Live-Plattform vor.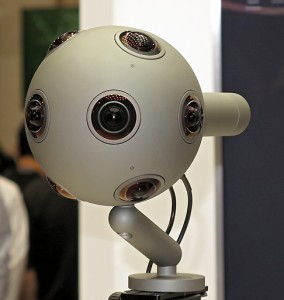 Ozo ist eine Virtual-Reality-Kamera, die es erlaubt, Kugelpanorama-Videos aufzuzeichnen und in Echtzeit zu übertragen — in Stereo-3D. Schon zur NAB2016 zeigte Nokia sie unter anderem im Live-Einsatz (siehe auch Meldung und Video von der NAB2016).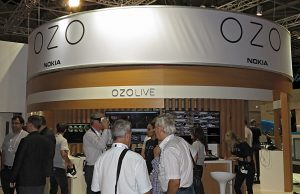 Zur IBC2016 nun gab der Hersteller Infos zum aktuellen Stand in puncto Verfügbarkeit und Preis, zeigte  die Kamera aber natürlich auch in diversen Anwendungen.
Mehr Live-Anwendungen
Die wichtigsten Neuerungen: Nokia hat den Verkaufspreis für seine VR360-Kamera etwas gesenkt, aber mit einem Netto-Listenpreis von 40.000 Euro bleibt die Ozo natürlich ein Profiwerkzeug. Die Kamera ist nun weltweit verfügbar. Während der IBC2016 legte Nokia zudem einen besonderen Schwerpunkt auf eine Lösung, mit der Multikamera-Live-Übertragungen mit mehreren Kameras möglich werden.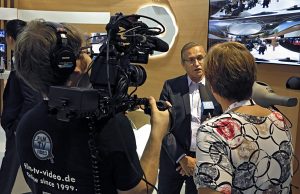 Im Live-Einsatz einer einzelnen Ozo oder eines ganzen Multikamera-Verbunds solcher VR360-Kameras, sieht Nokia ein weites Anwendungsfeld. Das erläuterte Guido Voltolina, Head of Presence Capture bei Nokia im unten eingefügten Video.
Devon Copley, Head of Product Management, erläutert im Video die Idee und grundlegende Funktionalität der Multikamera-Live-Lösung Ozo Live.
Das ist eine Software, die das aus acht einzelnen Kamerabildern bestehende Signal der VR360-Kamera übernimmt und daraus unter anderem einen 4K-Feed generieren kann, der sich dann in Broadcast-Infrastrukturen weiterverarbeiten lässt.
Für das Stitching der Stereo-3D-Live-Bilder in 360 Grad verwendet Nokia im Live-Betrieb andere Techniken, als wenn aufgezeichnet wird.
Basics zur Ozo
Die Kamera erfasst stereoskopische Videosignale über acht im Augenabstand angeordnete Kameramodule. In den Kameramodulen regeln synchronisierte Global Shutter die Belichtung der Sensoren. Für den Raumklang-Ton sind acht eingebaute Mikrofone zuständig. Mithilfe einer Betrachtungs-Software ist die Echtzeit-3D-Vorführung von Aufnahmen möglich — ohne dass das Panoramabild zuerst zusammengerechnet werden müsste, so der Hersteller. Dadurch werden auch Live-Lösungen möglich.