Vergleichstabelle: Digital Cinema Cameras 2016
Tolle Tabelle: Tom Fletcher hat gemeinsam mit Gary Adcock die Eckdaten gängiger Digital Cinema Cameras 2016 zusammengestellt.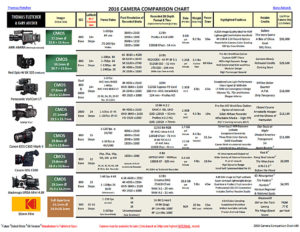 Tom Fletcher und Gary Adcock haben eine Übersichtstabelle zusammengestellt und dabei die wichtigsten Eckdaten gängiger Digital-Cinema-Kameras erfasst.
Tom Fletcher betont, dass die Tabelle nicht den Anspruch erhebe, auf wissenschaftlich erhobenen Daten zu basieren, sondern vielmehr ein praktisches Tool sein möchte, das es Produzenten ermöglichen soll, angesichts der zahlreichen Änderungen und Entwicklungen am Markt trotzdem die Übersicht zu behalten.
Fletcher ergänzt zudem, dass die aufgelisteten Fakten und Zahlen nur eine Seite der Medaille zeigten. Sein Rat lautet daher: »Look at the images and consult your cinematographer.«
Download hier.