Lang AG ordert MicroLED-Displays von Samsung
Die Lang AG investiert in neueste Display-Produkte von Samsung, darunter in »The Wall Professional«, ein Micro-LED-Display in UHD/HDR.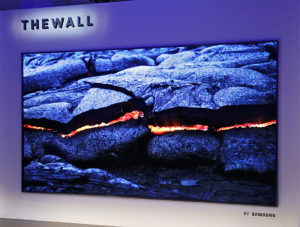 Mit einer ersten Order bekräftigt die Lang AG aus Lindlar ihre im März 2018 geschlossene Kooperation mit Samsung: Als weltweit erstes Unternehmen investiert Lang in »The Wall Professional« von Samsung. Das ist ein Display, das auf einer noch recht neuen Technologie basiert, nämlich der Micro-LED.
Basiselement sind LEDs im Mikrometer-Bereich, die mit diesen geringen Abmessungen deutlich kleiner sind als aktuelle LEDs. Außerdem sind diese Bildelemente selbstleuchtend, kommen also ohne Hintergrundbeleuchtung und Farbfilter aus. Außerdem soll diese neue Technologie den Bau von sehr großen, selbstleuchtenden Display-Wänden ermöglichen, die laut Samsung »Hunderte von Zoll« Bilddiagonale erreichen können.

Somit soll sich The Wall Professional besonders gut für den professionellen Einsatz im Indoor-Bereich eignen. Lang hat zwei dieser Displays bestellt, und wird sie aller Voraussicht nach im Oktober 2018 erhalten.
Die Lang AG weist besonders auf die »unglaubliche Helligkeit, ein enormes Farbvolumen und tiefe Schwarzwerte« der UHD-Displays hin. Samsung spricht von 1.600 Nits und weist auf HDR10+ als integrierte HDR-Technologie hin.
Samsung spricht weiterhin davon, dass The Wall Professional vollkommen modular konzipiert sei und es sich um die »business-ready variation« der Technologie handle, die man im Rahmen der CES2018 vorgestellt hatte.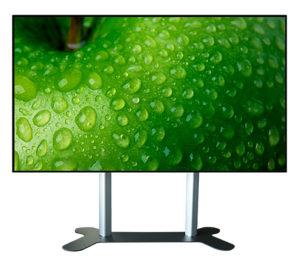 Neben diesen wegen der neuen Technologie besonders interessanten Displays orderte die Lang AG gleich zehn Einheiten des Displays The View. Alleinstellungsmerkmal dieses Produktes ist aus Sicht von Lang besonders dessen Plug&Play-Funktionalität. Das LED-Display mit einem Pixelpitch von 1,5 mm bietet bei Full-HD-Auflösung eine Bilddiagonale von 130 Zoll. Die Wand wird fest verbaut auf einem elektronisch verstellbaren Screenlifter angeliefert — ein klassisches Rental-Produkt also. Diese Einheiten sollen noch im Juni 2018 von Samsung an Lang ausgeliefert werden und dann zur Anmietung bereitstehen.
Über die Lang AG
Die LANG AG ist ein europäischer Großhändler für die Vermietung und den Verkauf von visueller Präsentationstechnik und deren Peripherie. Das Unternehmen hat sich darauf spezialisiert, dem professionellen AV-Markt hochwertige Produkte anzubieten.