Mit LiveU auf Rallye-Kurs
WRC Promoter, verantwortlich für die kommerzielle Verwertung der FIA World Rally Championship, setzte erstmals Übertragungstechnik von LiveU bei der viertägigen ADAC Rallye Deutschland im August 2018 ein.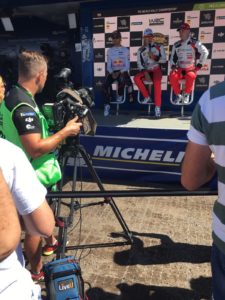 Die LiveU-Lösung LU600 HEVC wurde genutzt, um Livebilder von verschiedenen Etappen der Rallye sowie Interviews sowie Dateien vom Veranstaltungsort live zu überspielen. Alle eingesetzten LiveU Einheiten wurden von Mitarbeitern von WRC TV aus der Ferne gesteuert und überwacht. Hierfür war die webbasierte Management-Plattform LiveU Central im Einsatz.
Für die Berichterstattung hatte sich WRC Promoter bisher auf satellitenbasierte Lösungen gestützt. Videomaterial wurde zum Teil per Motorrad von bis zu 250 Kilometer entfernten Drehorten ins Studio transportiert. Das Arbeiten mit LiveU HEVC »versetzt uns in die Lage, nun in Gegenden zu arbeiten, in denen wir zuvor nie aktiv werden konnten«, beschreibt Florian Ruth, Director of Content and Production bei WRC Promoter, den Nutzen. LiveU biete die benötigte Mobilität, gepaart mit Signalstabilität.
WRC Promoter produziert in diesem Jahr 13 viertägige Rennen. Zur Wettkampfstrecke von rund 300 Kilometern kommen Fahrten von 1000 km zwischen den Bühnen hinzu. Nach den bisherigen Erfahrungen will man den Einsatz der LiveU Technologie in der nächsten Saison ausbauen.