Motion Graphics Templates anwenden, Inhalte anpassen – fertig ist der Shot
Die Filmproduktion Outside the Club produzierte in kürzester Zeit die zweite Staffel ihrer Web-Serie »Wishlist« für Amazon Prime. Für die aufwändige Kino-Optik animierte das Team unzählige Grafiken.
Das Produktionsteam animierte unzählige Grafiken, um eine aufwändige Kino-Optik zu erzielen. Motion Graphics Templates in Premiere Pro CC halfen dabei enorm.
Im Storytelling des Plots spielen WhatsApp oder Messenger-Nachrichten eine tragende Rolle – denn die Serie dreht sich um eine App, die Wünsche erfüllt. Die Grafiken der elektronischen Nachrichten kommen entsprechend häufig an vielen Stellen im Schnitt vor und sollten in einheitlicher Optik erscheinen, um den hohen Qualitätsansprüchen gerecht zu werden. Gleichzeitig war jedoch die Produktionszeit knapp bemessen – was eine große Herausforderung darstellte.
»Wegen teilweise sehr enger Deadlines war es hilfreich, auf vorab angelegte Templates zurückzugreifen, die wir immer wieder einsetzen konnten und die uns eine enorme Zeitersparnis ermöglichten,« erinnert sich Jonas Ahlrichs von Outside the Club.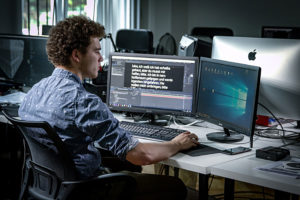 Das Team erstellte die Templates direkt in After Effects CC , wodurch Eigenschaften wie Text, Farben und Größe später einfach angepasst werden konnten. Das brachte eine zusätzliche Zeitersparnis, weil der häufige Programmwechsel, etwa um Grafiken in Photoshop CC anzupassen, komplett entfiel. Schon während des Schnitts in Premiere Pro CC konnte das Team einen VFX-Shot auswählen und diesen direkt an After Effects senden. Ein solcher Dynamic Link wird in Premiere Pro automatisch aktualisiert, wenn Grafiken und Vorlagen in After Effects darauf angewendet werden. »In After Effects mussten wir nur noch das richtige Template anwenden, das Timing anpassen und die Inhalte abändern – und fertig war der Shot« erklärt Ahlrichs.