»Technology Women to Watch Award«
Als erste Nicht-Amerikanerin erhielt die 32-jährige Yvonne Thomas von Arvato Systems den »Technology Women to Watch Award«.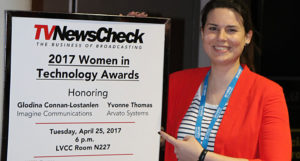 Die Preisverleihung für den »Technology Women to Watch Award« fand während der NAB2017 im Las Vegas Convention Center statt. Mit dem Preis werden vielversprechende Nachwuchskräfte der Broadcast-Branche ausgezeichnet.
Die 32-jährige Yvonne Thomas ist Diplom-Ingenieurin für Fernsehtechnik und elektronische Medien, sie verantwortet als Produktmanagerin das MAM-System VPMS und das Recherche-Tool MediaPortal von Arvato Systems.
Schon während ihres Studiums an der Hochschule Rhein-Main in Wiesbaden sammelte Thomas erste praktische Erfahrungen: Als Praktikantin im ZDF-Auslandsstudio London und als Technische Betriebsassistentin am Mainzer Lerchenberg. Nach Abschluss ihres Studiums 2010 wurde sie 2011 im Rahmen der Internationalen Funkausstellung (IFA) mit dem ARD/ZDF-Medien-Frauenförderpreis für ihre Diplomarbeit zum Thema »Untersuchung der stereoskopischen Wahrnehmung in Abhängigkeit verschiedener Displaygrößen und Erstellung einer Studie zur Akzeptanz von 3D« ausgezeichnet.
Seit 2011 war Thomas bei der European Broadcasting Union (EBU) in Genf im Technology & Innovation Department beschäftigt — zuerst als Projektingenieurin im Bereich »Future TV & 3D Technologies«, ab 2013 als Projektmanagerin verantwortlich für die Standardisierung von UHD und eines neuen Color Rendering Index »TLCI«. Im Rahmen ihrer Tätigkeiten spielte die Standardisierung innerhalb von SMPTE, ITU, DVB und MPEG eine essenzielle Rolle.
Seit ihrem Wechsel zu Arvato Systems im September 2015 hat Yvonne Thomas die Entwicklung der Arvato-Produkte VPMS (Video Production Management Suite) und MediaPortal vorangetrieben.
»Ich gratuliere Yvonne Thomas zu dieser Auszeichnung und freue mich, mit ihr eine sehr versierte und engagierte Produktmanagerin in unserem Team zu haben«, sagt Stefan Eckardt, Head of Product and Portfolio Management, Arvato Systems.