Joachim Voegele bei Dimetis
Joachim Voegele ist neuer Head of Engineering and Product Management bei Dimetis. Er wird für die technische Strategie sowie die Produktentwicklung verantwortlich sein und die Engineeringteams in Deutschland und Indien führen.
Joachim Voegele bringt mehr als 30 Jahre Erfahrung in der Produktentwicklung und -strategie in den Bereichen Video, Network, Cloud, IoT und Big Data Technologien, sowie eine langjährige Führungserfahrung mit. In seinen beruflichen Stationen bei Software AG, Swisscom und verschiedenen Startups hat er erfolgreich Softwareentwicklungen geleitet. Als Managing Consultant bei Capgemini und Acentrix war er mit großen Cloudmigrationen und Automatisierungsprojekten für unterschiedlichste Unternehmen betraut. Joachim Voegele studierte an der Fachhochschule Giessen-Friedberg, Nachrichten- und Mikroprozessortechnik.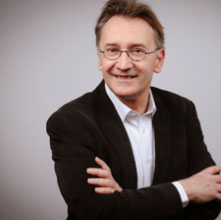 »Joachim bringt seine Innovations- und Engineeringerfahrung aus drei Jahrzehnten bei Dimetis ein« sagte Thomas Will, CEO der Dimetis. »In seiner erfolgreichen Laufbahn hat er immer wieder gezeigt, wie man große technische Teams aufbaut, motiviert und innovative, komplexe Produkte erfolgreich entwickelt und vermarktet. Er wird dem Produktmanagement von Dimetis die nötigen Impulse und Führung geben, um die Marktposition auszubauen und das Portfolio zu vervollständigen. Ich bin begeistert darüber, Joachim mit seiner visionären Kraft und Durchsetzungsbereitschaft für unser Management Team und auch unsere Mitarbeiter gewinnen zu können.«
»Ich freue mich darauf mit den erfahrenen und talentierten Entwicklungsteams in Deutschland und Indien den Führungsanspruch von Dimetis in Broadcast und Telekommunikation zu untermauern« fügte Joachim Voegele hinzu.