Virtuelle Solution Days im Mai & Juni 2021
Die x-dream-distribution kündigt mit den »Solutions Days« eine neue Reihe von Online-Events an.
Die x-dream-distribution hostet die Solution Days auf der firmeneigenen Online-Plattform https://x-dream.events.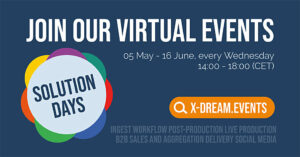 Nach den ersten virtuellen Mehrtagesveranstaltungen im Januar 2021 wurde nun ein neues Format entwickelt. Die sogenannten Solution Days werden kürzer und komprimierter: 3-4 Stunden am Nachmittag – jeden Mittwoch im Mai und Juni. Solution Days deshalb, weil an diesen Tagen nicht nur über einzelne, isolierte Produkte gesprochen werden soll, sondern insbesondere auch über die Kombination verschiedener Produkte.
Folgende Themen werden im Mai und Juni im Fokus stehen:
05 May – We bet, we have an ingest solution for you
12 May – Increase workflow efficiency by integration and automation
19 May – Distributed post-production demystified
26 May – Everyone can be a broadcaster!? Live production
02 June – Adventures and Advantages in making content saleable
09 June – Current trends in monetizing content for B2C
16 June – Whatever happens, happens first on Social Media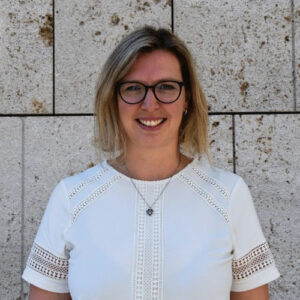 »Das neue Format der Solution Days erleichtert vieles. Wir glauben, dass es für unsere Besucher weitaus einfacher und bequemer ist, sich nur 3-4 Stunden am Tag Zeit zu nehmen für unser Online-Event. Neben unserem Studio-Livestream tragen die zusätzlichen Features der Plattform, wie z.B. Live-Demoräume und eine virtuelle Kaffeebar, dazu bei, das Beste aus der Veranstaltung herauszuholen«, so Jutta Schönhaar, Geschäftsführerin der x-dream-distribution GmbH.
Jeder Solution Day beginnt im Auditorium mit einer businessorientierten Podiumsdiskussion, die sich dem jeweiligen Hauptthema des Tages widmet. Anschließend finden ebenfalls im Auditorium drei technische Interviews auf Basis der Produkte und Lösungen der verschiedenen Herstellerpartner statt. Nach den Sessions im Auditorium sind alle Besucher dazu eingeladen, sich in der virtuellen Coffee Bar auszutauschen und Fragen zu stellen.
Während der Solution Days besteht außerdem die Möglichkeit, in den Demo Rooms an Produkt-Demonstrationen der unterschiedlichen Hersteller teilzunehmen.
Hier geht's zur Anmeldung: x-dream.events
Nach einer einmaligen Registrierung erhalten die Teilnehmer exklusiven Zugang zu allen Solution Days sowie Aufzeichnungen der Interviews und Diskussionen.
About x-dream.events
Das erste virtuelle »x-dream.event« fand vom 26. bis 28. Januar 2021 statt. Auf der Website https://x-dream.events konnten Medien-IT-Profis aus aller Welt Interviews und Podiumsdiskussionen verfolgen, Gleichgesinnte treffen und an Produktdemos teilnehmen.
Ein kurzer Überblick:
27 Auditorium Talks wurden aus der ganzen Welt mitverfolgt
30 Fachleute teilten ihr Wissen
18 Demos fanden statt