Vier Extrakanäle für 833-Mixer/Recorder
Sound Devices bietet per kostenpflichtigem Software-Plug-In vier zusätzliche Kanäle für den Mixer/Recorder 833 an.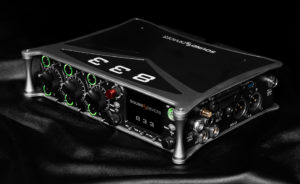 Wer will, kann aus seinem bestehenden Audio-Mixer/Recorder 833 von Sound Devices nun ein 12-Kanalgerät machen. Das ermöglicht ein kostenpflichtiges Plug-In zum Netto-Listenpreis von 950 US-Dollar.

Das +4-Plug-In ermöglicht es, den 833 um vier vollwertige ISO-Kanäle/Aufnahmespuren zu erweitern. Mit dem Plug-In wird also aus dem 833 nun ein Mixer/Recorder mit 12 Kanälen und 16 Spuren.
Die zusätzlichen Kanäle, die das +4-Plug-In zur Verfügung stellt, können jede beliebige Eingangsquelle aufnehmen und auf den Hauptmix-Bus, zusätzliche Busse und jeden beliebigen Ausgang geroutet werden. Wie bei den ursprünglichen acht Kanälen kann auch jeder Effekt angewendet werden, einschließlich Automix, NoiseAssist, Cedar SDNX, EQ und Kompression.

Paul Isaacs, Director of Product Management and Design bei Sound Devices erklärt: »Der 833 ist bereits jetzt für seine Größe ein extrem leistungsfähiger Mixer/Recorder. Die Ergänzung um vier weitere vollwertige Kanäle mit dem +4-Plug-In können Tonprofis die Vorteile von bis zu acht drahtlosen Kanälen über den SL-2 sowie die analogen, AES- oder USB-Eingänge nutzen.«
»Die zusätzlichen Kanäle, die das Plug-In bietet, können auch als Redundanz genutzt werden. Es können nun also bis zu sechs unbearbeitete und sechs bearbeitete Spuren gleichzeitig aufgenommen werden.«
Das +4-Plug-In erfordert die 8-Series und SD-Remote v8.80 oder höher. Die Firmware v8.80 bietet weitere spannende Features, wie die lang erwartete CL-16 Unterstützung für den 833, Channel Copy für die Scorpio-Kanäle 17-32, ein neues Power Source Icon für SD-Remote und mehr.