NAB2017-Video: Raptor-Objektive und Zubehör
Martin Kreitl präsentiert im Video die Fullframe-Macro-Objektive der Raptor-Baureihe und zeigt drei optische Adapter dafür. Zudem kündigt er drei weitere Raptor-Brennweiten an (25, 35, 60 und 80 mm).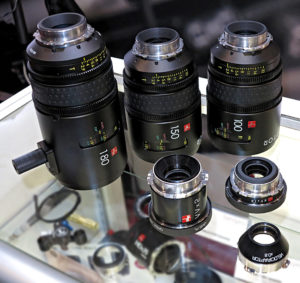 Die Raptoren von IB/E sind als Hochleistungsobjektive konzipiert und für digitale Filmkameras mit sehr großen Sensoren geeignet: Sie können etwa auch mit der Red Weapon 6K/8K und der Arri Alexa 65 genutzt werden. Die Raptor-Objektive leuchten also auch die großen Bildkreise dieser Kameras vollständig aus.
Der Bildkreisdurchmesser der Raptor-Opbjektive liegt bei mehr als 50 mm. Erweiterte Farbkorrektur (APO), maximaler Abbildungsmaßstab 1:1, T-Stop T2.9, Universal Mount System, sowie eine robuste und langlebige Cine-Mechanik kennzeichnen die Fullframe-Macro-Baureihe, die derzeit drei Festbrennweiten umfasst: 100 mm, 150 mm und 180 mm.
Diese Objektive sind lieferbar und schon bei etlichen Rental-Häusern weltweit verfügbar (siehe Meldung).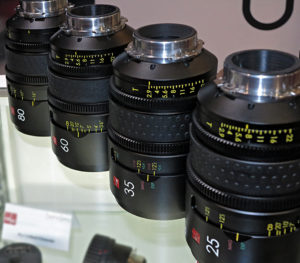 Martin Kreitl, Head of Sales and Marketing bei Band Pro Munich, kündigt im Video aber auch weitere Brennweiten an, die bereits zur kommenden IBC gezeigt werden und bis Jahresende 2017 dann verfügbar sein sollen: 25, 35, 60 und 80 mm. Diese Objektive sind als normale Primes konzipiert, sie bieten keine 1:1-Macro-Abbildung.
Band Pro vertreibt die Raptor-Objektive weltweit exklusiv, das wird auch für die neuen Brennweiten gelten.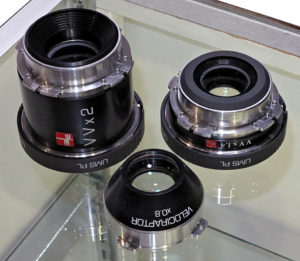 Auch das optische Zubehör erweitert Band Pro. So soll es analog zum PL-x2-Extender einen x1.4-Vistavision-Extender geben.
Mit 0.8x Velociraptor wird es einen Speedster geben, mit dem sich der Bildkreis verkleinern lässt, was den angenehmen Nebeneffekt hat, dass man damit eine Blende an Lichtstärke gewinnt. Das neue Zubehör soll zum Jahresende 2017 verfügbar werden.