Sensorgrößen digitaler Kameras im Vergleich zu Super-35
Das amerikanische Filmunternehmen Abel Cine hat eine grafische Übersicht zusammengestellt, die die Sensorgrößen zahlreicher Digitalkameras im Vergleich zum Filmfenster des Super-35-mm-Formats darstellt.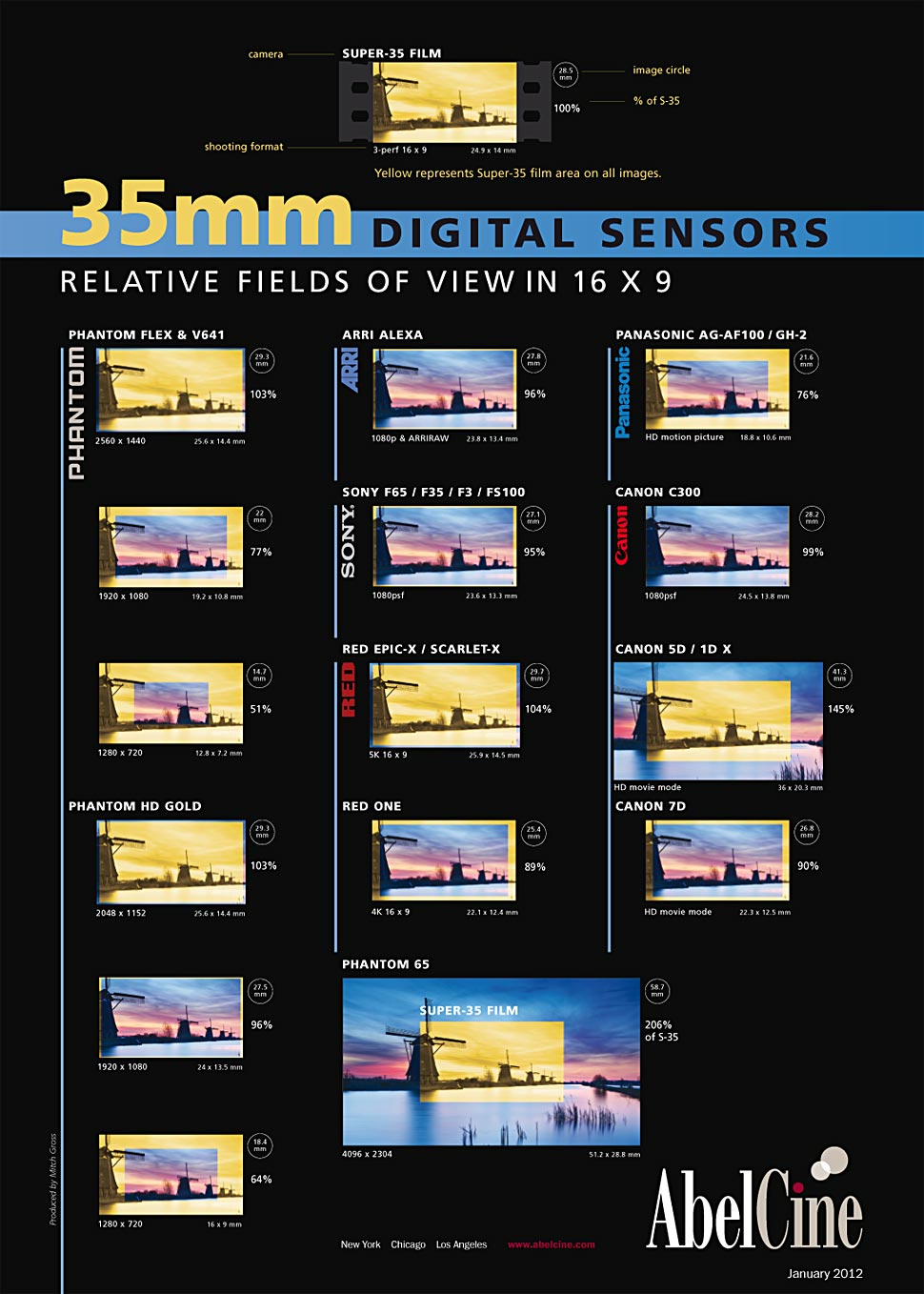 Viele digitale Kameras und Camcorder werden damit beworben, dass sie mit einen großen Bildensor mit »35-mm-ähnlichen« Abmessungen bestückt sind. Damit soll hohe Bildqualität signalisiert werden und die Möglichkeit, einen »Film-Look« mit geringer Schärfentiefe zu erreichen. Dabei sind die Interpretationen, was den nun »35-mm-ähnlich« ist, ziemlich breit gestreut. Die Übersicht von Abel Cine stellt die Verhältnisse übersichtlich dar und verwendet dabei das Super-35-mm-Bildfenster als Bezugsgröße.
Die neueste Version der Übersicht vom Januar 2012 enthält unter anderem auch mehrere digitale Fotoapparate, sowie Sonys FS100 (Test) und F3 (Test), Canons C 300, sowie Panasonics GH2 (Test) und AF100 (US-Version des AF101 (Test)).
Abel Cine ist ein amerikanisches Unternehmen, das sich mit Verkauf, Vermietung und Service von Film-Equipment sowie mit Training, etwa in den Bereichen Digital Cinema, High-Speed und Stereo-3D befasst. Motto: »We serve professionals and serious content creators working at all levels of production.«
Die grafische Übersicht stellt Abel Cine unter dem untenstehenden Link zum kostenlosen Download als PDF zur Verfügung.