Engineering Emmys: Arri für Alexa ausgezeichnet
Bei der Verleihung der »Engineering Emmys« wurde Arris Alexa ausgezeichnet. Frank Zeidler, Harald Brendel und Glenn Kennel von Arri nahmen die Trophäe in L.A. entgegen.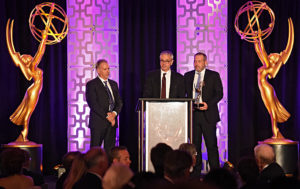 Die amerikanische TV-Branche vergibt über einen ihrer Verbände, die Academy of Television, jährlich Emmys in ganz verschiedenen Kategorien, darunter auch »Engineering Emmys«. In diesem Jahr wurde die Kamera Alexa von Arri mit einem solchen Emmy ausgezeichnet (siehe Bericht).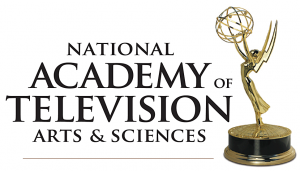 Die feierliche Überreichung der Trophäe fand am 25. Oktober 2017 im Loews Hollywood Hotel in Los Angeles statt. Dabei wurden die digitale Bildverarbeitung, der integrierte Postproduktions-Workflow als Gründe für die Auszeichnung genannt, sowie Funktionen wie Farbmanagement, Onboard-Aufzeichnung von unkomprimierten und komprimierten Videobildern und die einfach zu bedienende Benutzeroberfläche.
Die Trophäe wurde von Harald Brendel, Teamlead Image Science, und Frank Zeidler, Senior Manager Technology und Deputy Head of R&D, gemeinsam mit Glenn Kennel, President von Arri Inc. entgegengenommen.
In seiner Dankesrede verwies Harald Brendel auf Arris 100-jährige Geschichte und sagte: »Ich danke unserem Technikvorstand Franz Kraus dafür, dass er das Unternehmen in das digitale Zeitalter geführt und unser Verständnis von Film und dessen Bildeigenschaften aufgebaut hat. (…) Vielen Dank an die Television Academy und vor allem an unsere vielen Kunden, die uns dazu motivieren, unsere Produkte ständig weiter zu verbessern.«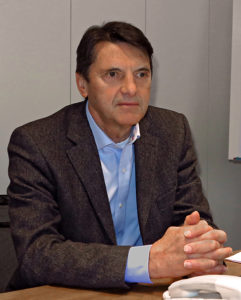 Franz Kraus, Technikvorstand von Arri erklärt: »Diese prestigeträchtige Auszeichnung würdigt vor allem die harte Arbeit des Alexa-Kernteams von Ingenieuren, das vor fast zwei Jahrzehnten in Zeiten der digitalen Transformation begonnen hat. Die Ingenieure brachten ihr gesamtes Wissen und ihre Erfahrung in das Alexa-Kameraprojekt mit ein und schufen so den hochgeschätzten cineastischen Look der Alexa. Wir sind sehr dankbar für diese besondere Anerkennung der Television Academy.«
Mit Engineering Emmys würdigt die Television Academy Einzelpersonen, Firmen oder Organisationen, deren technischen Entwicklungen wesentlich zur Verbesserung der Übertragung, Aufnahme oder Wahrnehmung des Fernsehens beigetragen haben.
Anfang 2017 wurde Arri bereits von der Academy of Motion Picture Arts and Sciences mit einem Technik-Oscar für das zukunftsweisende Konzept und die innovative Technologie der Alexa geehrt (siehe Meldung).