Zwischen Kunst und Technologie …
… bewegt sich die FMX – Conference on Animation, Effects, Games and Immersive Media auch 2019. Das Kongressmotto »Bridging the Gap« soll u.a. eine Keynote von Jan Pinkava unterstreichen.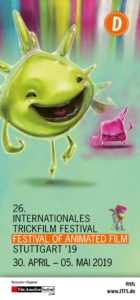 Die Konferenz (30. April bis 3. Mai) ist ebenso wie der Animation Production Day (1. bis 3. Mai) Teil der Fachveranstaltungen im Rahmen des Internationalen Trickfilm Festivals Stuttgart (30. April bis 5. Mai).
Pinkava wird seine Ansichten über die Verbindungen zwischen künstlerischem Ausdruck und technologischer Innovation vorstellen. Zugleich wird er Erfahrungen zu den Herausforderungen der künstlerischen und technischen Aspekte bei der Arbeit mit neuen Formaten und neuen Technologien vermitteln. Pinkava ist derzeit als Creative Director für Google Spotlight Stories tätig; zuvor hatte er als Co-Regisseur am Oscar-prämierten Animationsfilm Ratatouille und an diversen Pixar-Produktionen mitgewirkt.
Die zum 13. Mal durchgeführten Animation Production Days (APD) sind der wichtigste Koproduktions- und Finanzierungsmarkt für Animationsprojekte in Deutschland. Projekte für Filme, TV-Serien, Mobile Content, Games, Cross- und Transmedia und Hybridformate können bis zum 21. Februar eingereicht werden. Der Termin betrifft auch das parallele Talent Programm des APD.
Der erste FMX-Trailer entstand wiederum an der Filmakademie Baden-Württemberg. Regie führte Arne Hain, für Animation-/VFX-Produktion zeichnete Josephine Roß. Als Technical Director war Denise Hoffmann beteiligt.
Weitere Informationen über das Gesamtprogramm von Festival und Fachveranstaltungen auf den Homepages des ITFS und der Fachveranstaltungen FMX und APD.