5G-Demo von Rhode & Schwarz und Qualcomm
Rohde & Schwarz und Qualcomm Technologies demonstrieren während der NAB 2022 das End-to-End Live-Streaming mit 5G Broadcast/Multicast.
Herzstück der Installation war die 3GPP-konforme End-to-End-Lösung von Rohde & Schwarz, bestehend aus einem 5G Broadcast-fähigen R&S TLU9-Sender und einem Spinner-Filter.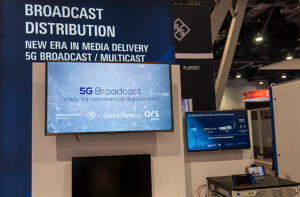 Das Broadcast Service and Control Center (BSCC2.0) fungiert als Kernnetz. Das Live-Signal wurde im Las Vegas Convention Centre vom Rohde & Schwarz-Stand aus im UHF-Band über sektorisierte Antennensysteme von Dielectric an ein Test-Smartphone von Qualcomm Technologies übertragen. Die Lösung basiert auf dem 3GPP Rel-16 Feature-Set und arbeitet im Receive-Only Mode (ROM), Free-To-Air (FTA) ohne SIM-Karte. Für den Live-Empfang der vorab aufgezeichneten Inhalte kam der Titan-Codec von Ateme zum Einsatz.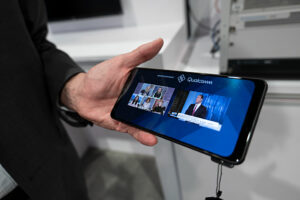 Aus Sicht von Manfred Reitmeier, Vice President Broadcasting und Amplifier Systems bei Rohde & Schwarz, ermöglicht 5G Broadcast neue Dienstleistungen und Geschäftsmodelle für die Verwertung von Medieninhalten, u.a. für die Event- und die Automobilbranche.
Die auf das Broadcast-Prinzip aufsetzende Verbreitung nach dem Grundsatz High Power – High Tower und der Free-To-Air-Empfang ohne SIM-Karte geben u.a. Behörden und Notdiensten die Möglichkeit, ihre Informationen in Notfällen sicher zu übermitteln, betonen die Projektpartner.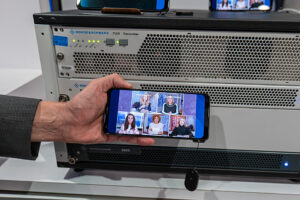 Die »aufregende neue Welt für das Ökosystem der mobilen Kommunikation« beeinträchtige den bestehenden Mobilfunk nicht, gebe aber »einen kleinen Vorgeschmack auf das, was mit heute verfügbaren Technologien und Lösungen möglich ist«.
Die Demonstration beweise, dass diese Möglichkeit »nicht in weiter Ferne liegt, sondern bereits heute auf der Messe für alle zu erleben ist«, ergänzt Lorenzo Casaccia, Vice President of Technical Standards & Intellectual Property bei Qualcomm Technologies.