Dokfest München 2017: Vorschau und Empfehlungen
Am Donnerstag den 3. Mai 2017 beginnt das 32. Internationale Dokumentarfilmfestival München mit einem Programm aus 157 Filmen aus 45 Ländern. Der Doku-Kameramann Hans Albrecht Lusznat hat einen Teil der Filme schon gesehen und gibt hier seine ganz persönlichen Tipps und Bewertungen ab.
Tendenzen, Kommentare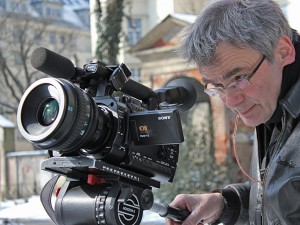 Aus den beschriebenen Filmen, die natürlich nur einen Ausschnitt des gesamten Programms des Dokumentarfilmfestivals darstellen, zieht der Autor Hans-Albrecht Lusznat einige Schlüsse.
Nimm drei
Es ist ein bewährtes Rezept für die Dramaturgie eines Dokumentarfilms auf die Dreier-Konstellation zurückzugreifen. Drei Protagonisten, aus drei Ländern mit drei Absichten. Das macht sich immer gut, vor allem weil drei ineinander verwobene 30 Minutenfilme besser tragen, als ein 90 Minutenfilm über eine Person. Auf dünnem Eis – die Asylentscheider, Zwischen den Stühlen und Almost there.
Klassisches Format
4:3 ist wieder da. Das nimmt man als Zuschauer ganz selbstverständlich zur Kenntnis und es entsteht nicht der Eindruck, hier wird ein alter Film oder Archivmaterial gezeigt. Brexitannia und Wrong Elements sind in 4:3 gedreht.
Auf der anderen Seite steht Cinemascope, was aber für den Dokumentarfilm wegen der recht teuren Objektivsätze eher nicht in Frage kommt. Man kann es auch anders lösen: Für Große Oper haben die Macher das Bild einfach entsprechend gekascht, was natürlich bei der Ausrichtung der Kamera eine extrem genaue Führung der Linien verlangt. Ebenfalls im Seitenverhältnis 1:2.35 On the Edge of Happiness und La Tempestad Calmada.
Drohnen
Es gibt Moden auch in der Kameraarbeit, die kommen und gehen. Wir haben Zeitraffer-Aufnahmen beobachtet, Tilt-Aufnahmen mit Modellbahncharakter, Leicht-Kranaufnahmen, die durch die Gegend schwenkten, Gimbal-Gewackel, exzessive Unschärfe und Drohnenflüge.
Bei den besprochenen Filmen ist die Drohnenmode aber schon wieder vorbeit: Von den Filmen, die hier besprochen sind, verwenden nur Swagger, A modern man, und Dreamboat Drohenflüge, und immer sind sie von der Geschichte motiviert und geben dem Zuschauer notwendigen Überblick.
Schnitt
Schnitt-technisch möchte ich jedem den Film Swagger ans Herz legen. Hier hat der Regisseur durch geschickte Positionierung der Kameras und durch Blicke der Jugendlichen erreicht, aus den verschiedenen Interviews eine große Gesprächsrunde zu schaffen, in der alle zuhören, wenn einer spricht.