Goldcrest realisiert Grading für »The King's Man« mit Resolve
DaVinci Resolve war Bestandteil der DI-Pipeline für den neuen Actionfilm »The King's Man« von 20th Century Studios.
»The King's Man: The Beginning« ist ein Prequel zu den beiden bisherigen Teilen der Kingsman-Filmreihe. Der von Marv Studios produzierte Film entstand unter der Kameraführung von Director of Photography Ben Davis, BSC, und der Regie von Matthew Vaughn. Er handelt von der Entstehung der »Kingsman«-Organisation, dem ersten unabhängigen englischen Geheimdienst, und spielt im Umfeld des Ersten Weltkriegs.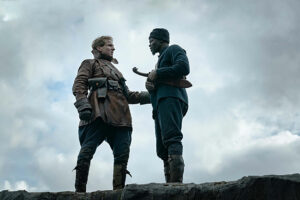 Der Großteil der Handlung ist eher in einem dezenten Look gehalten, die Actionsequenzen stechen im Vergleich dazu heraus. Für die von Second-Unit-Regisseur Bradley Allan aufgenommenen Actionszenen testete Davis eine Vielzahl kleinerer Kameras und entschied sich letztendlich für die Pocket Cinema Camera 6K und die Blackmagic Micro Studio Camera 4K.
Letztere installierte Davis auf einem Ronin S Gimbal mit Blackmagic Video Assist 4K. Fürs Ziehen der Schärfe setzte er auf das drahtlose Blendensteuersystem Arri WCU-4.
»Für mich zählt vor allem Größe«, sagt er. »Leichte, vielseitige Kameratechnik wie diese hat die Art verändert, wie wir drehen. Heutzutage kann man Kameras an Orten aufstellen, wo man mit größeren schlicht nicht hinkommt. Zudem lassen sich Kameras dieses Formats auf Mini-Stabilizer-Riggs setzen. Das verändert die Dynamik der Kinematografie.«
Adam Glasman, Senior Colorist bei Goldcrest Post, leitete das DI und finale Grading. Daniel Tomlinson bearbeitete die Online-Version. »Die beiden Vorgängerfilme in der Kingsman-Reihe sind relativ farbenfroh, plakativ und glänzend. Doch wegen des Themas wollte Ben mit einem dezenten entsättigten Look-und-feel eine düsterere Richtung einschlagen«, erklärt Glasman.
Eine Printfilm-Emulation-LUT, die das Duo ursprünglich für »Three Billboards Outside Ebbing, Missouri« entwickelt hatte, diente als Grundlage für die Dreharbeiten. Mittels Goldcrests internem Farbverwaltungssystem wurde die LUT vom Set in der Postproduktion angewandt.
Um Filmausschnitte von Schützengräben aus dem Ersten Weltkrieg der gedämpften Gesamtatmosphäre anzupassen, verlieh man ihnen einen entsättigten kühleren Look. Dazu verwendet Glasman diverse DaVinci Resolve Tools, unter anderem die Bedienelemente fürs primäre und Log-Grading, HSL-Keyer und Rotoskopie-Formen.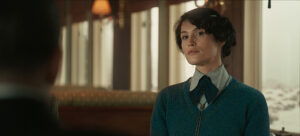 Die ersten zehn Minuten des Films zeigen einen Flashback zur südafrikanischen Steppe im Zweiten Burenkrieg. »Diesen Ausschnitt versahen wir mit einem staubig gelblichen Look. Wir wollten ihn damit von den satten Grüntönen der englischen Landschaftsszene abgrenzen, in die diese Sequenz übergeht«, berichtet er.
Für eine Hauptsequenz von einem Festessen bei Kerzenlicht im russischen Königspalast mit der Figur Rasputin verfeinerte Glasman das Grading, um die Üppigkeit der Szene herauszuarbeiten. »Ich erzielte das mithilfe von 'Sat vs. Lum'-Kurven. Zudem benutzte ich den HSL-Keyer, um vergoldete und Echtgoldverzierungen auszuwählen und ihre Sättigung zu erhöhen«, berichtet er.
Die finalen Deliverables umfassten Dolby Vision HDR für Heim- und Kinoausgaben sowie SDR Rec. 709.