Lightworks lebt
Nach Herstellerangaben wurden schon 80 Lightworks-Touch-Schnittplätze in der erst zur IBC2002 vorgestellten, jüngsten Version verkauft.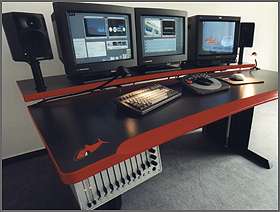 Lightworks präsentierte das NLE-Schnittsystem Touch erstmals zur IBC2002 der Öffentlichkeit. Nun gibt der Hersteller bekannt, dass seither schon mehr als 80 Systeme weltweit verkauft wurden.
Als aktuelle Referenzproduktionen, die auf Lightworks-Systemen geschnitten wurden, nennt der Hersteller unter anderem »Gangs of New York«. Cutterin Thelma Schoonmaker setzt dabei schon zum vierten Mal ein Lightworks-System beim Schnitt eines Scorsese-Films ein. Auch beim Schnitt von »Road to Perdition« kam demnach ein von Jill Bilcock bedientes Heavyworks-System zum Einsatz, mit dem die Cutterin nun »Japanese Story« schneidet. Weitere jüngere und ganz aktuelle Produktionen die mit Lightworks-Systemen geschnitten wurden und werden sind: »Dirty Pretty Things«, der Film »Leo« mit Sam Shepard und Dennis Hopper, »Ted und Silvia« mit Gwyneth Paltrow und der jüngste Jim-Carey-Film »Bruce Almighty«.
Cutter Niven Howie hat laut Lightworks ein Touch-System gekauft, um damit den De-Niro-Film »Godsend« zu bearbeiten. »Die neue Maschine ist ein riesiger Fortschritt, besonders in puncto Bildqualität«, sagt Howie über Lightworks Touch.
Auch im TV-Bereich wird Lightworks Touch laut Hersteller intensiv genutzt, besonders in Großbritannien: Fernsehshows und Soaps nennt Lightworks hier als Einsatzgebiete. Auch beim Schnitt von Konzerten einer 70er-Jahre-Rockband für die DVD-Veröffentlichung wurde Lightworks Touch eingesetzt. Der Bandname darf derzeit in Veröffentlichungen noch nicht genannt werden, so Lightworks, weil das Projekt erst im Mai veröffentlicht werden soll.