Jetzt bewerben: Best of Show Award
Noch können sich Aussteller der Euro Cine Expo um den Best of Show Award bewerben.

film-tv-video.de wird im Rahmen der Euro Cine Expo, die am 30. Juni und 1. Juli 2023 auf dem Motorworld-Gelände in München stattfindet, einen Best of Show Award verleihen, gesponsert von TELTEC. Alle Aussteller der Messe können sich bewerben, die genauen Teilnahmebedingungen für den Award finden sind hier.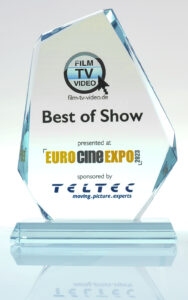 Jetzt wird es langsam Zeit, die Bewerbungen loszuschicken und per Mail an die Adresse zu schicken, die in den Teilnahmebedingungen genannt ist. Die Bewerbungsfrist läuft bis 1. Juni 2023. Keine Sorge: Die kostenlose Bewerbung ist schnell und einfach erledigt, wir verlangen im Wesentlichen nur eine Beschreibung und einen kurzen Text.
Die Einsendungen werden geprüft und eine Liste mit den Finalisten wird veröffentlicht. Die Finalisten werden informiert, film-tv-video.de besucht während der Euro Cine Expo deren Stände und nimmt dort die Produkte oder Dienstleistungen in Augenschein. Der Gewinner wird dann während der Messe am Samstag, den 1. Juli 2023 bekannt gegeben — und natürlich wird das auch bei film-tv-video.de veröffentlicht.
Der Rechtsweg ist bei dieser Preisverleihung natürlich ausgeschlossen, die Redaktion von film-tv-video.de gewährleistet aber Transparenz.