IBC2018-Video: So funktioniert Qvest.Cloud
Ulrich Voigt, Head of Design bei Qvest Media, erklärt im Video die Grundidee und technischen Hintergründe von Qvest.Cloud und zeigt die Software-Oberfläche der neuen Lösung.
Welche Tools braucht man, um Systemintegration auch in Zukunft erfolgreich umsetzen zu können? Wenn es – plakativ gesprochen – keine oder kaum noch Hardware gibt und wenn man Cloudlösungen nutzt? Fragen wie diese stehen hinter der Entwicklung von Qvest.Cloud, erläutert Ulrich Voigt, Head of Design bei Qvest Media.
Mit der Management Software soll es für Unternehmen demnach sehr einfach werden, Media Services und Anwendungen mittels moderner Web-Technologien zu integrieren und zu betreiben, erläutert Ulrich Voigt.
Dank eines offenen Interface-Designs sollen IT- und Medienanwendungen von Drittherstellern in die Management Software aggregiert, miteinander verschmolzen und dezentral genutzt werden. Über Qvest.Cloud sollen die Anwender direkt auf die für sie freigeschalteten Funktionen zugreifen können.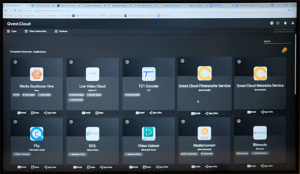 Qvest Media will das neue Produkt für Anwendungsfelder jeglicher Größe anbieten: von Pay-As-You-Go-Modellen und Bundles für die klassische Medienproduktion über zugeschnittene Corporate-Lösungen bis hin zu Enterprise-Installationen, mit denen sich infrastrukturelle Anforderungen von Großunternehmen integrieren lassen.