Nouvelle Vague reloaded: »The Price of Success«
DoP Julien Poupard weckt bei seiner Kameraarbeit für den französischen Spielfilm »The price of Success« Erinnerungen an die Nouvelle Vague. Mit einer Red Epic Dragon begab er sich auf eine visuelle Reise zwischen den Welten seiner Protagonisten und berichtet von den Dreharbeiten.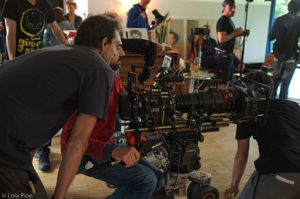 Gestaltung der Bilder
Der aktuelle Spielfilm war beileibe nicht Poupards erste große Produktion mit einer Red-Kamera. Zuvor hatte er etwa schon bei »Party Girl«, »The Tournament« und »Divines« mit einer Red gearbeitet.
»Bei jedem Projekt versuche ich, die jeweils richtige Kamera für die Geschichte und die Bilder zu finden. Ich will mich keinesfalls zum Sklaven eines einzigen Kameramodells machen. Aber ich muss sagen, dass ich den Red-Workflow sehr mag. An jedem Drehtag überspiele ich mir einige Dailies auf meine Festplatte, bearbeite sie im Hotel, lege eine LUT darüber und führe mit DaVinci Resolve ein erstes Grading durch. Ich mag es, wenn ich mir das Material schon während des Drehs ansehen kann. Der Red-Workflow ermöglicht das.«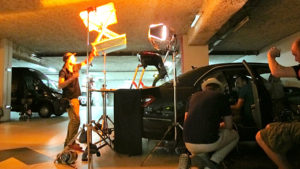 On Location in Paris und Lyon wollte Poupard mit den Grautönen und soften, ausgebleichten Farben arbeiten, die in den Vorstädten insgesamt und im Film auch im Elternhaus des Hauptdarstellers vorherrschen. »Insgesamt wollte ich aber mit einer großen Farbpalette arbeiten, um die Geschichte zu erzählen und setzte beispielsweise einerseits Pastellfarben ein, um die einfache, urbane Umgebung zu bebildern«, erklärt Poupard. »In der Stadtwohnung des Hauptdarstellers und in den Pariser Nächten arbeitete ich hingegen mit viel rot, gelb sowie primären, gesättigten Farben, um schillernde Bilder des Pariser Nachtlebens zu kreieren.«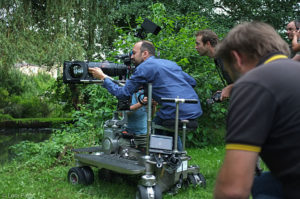 Besonders stolz ist Poupard auf den Mastershot im Stadtapartment des Hauptdarstellers. »Darin folgen wir dem Hauptdarsteller in einer komplizierten Fahrt durch verschiedene Räume und einen Flur mit unterschiedlichem Umgebungslicht, das nahe der Fenster sehr hell, im Flur aber sehr dunkel ist«, erläutert er. »Ich folge dem Hauptdarsteller und seiner Freundin in einer subtilen Choreographie, mit der wir die Probleme in der Kommunikation verdeutlichen und die Unfähigkeit der beiden zeigen, mit dem jeweils anderen zu reden.«
Seite 1: »The Price of Success« – Hintergründe
Seite 2: Auswahl der Kamera
Seite 3: Gestaltung der Bilder, Trailer