Nouvelle Vague reloaded: »The Price of Success«
DoP Julien Poupard weckt bei seiner Kameraarbeit für den französischen Spielfilm »The price of Success« Erinnerungen an die Nouvelle Vague. Mit einer Red Epic Dragon begab er sich auf eine visuelle Reise zwischen den Welten seiner Protagonisten und berichtet von den Dreharbeiten.
Auswahl der Kamera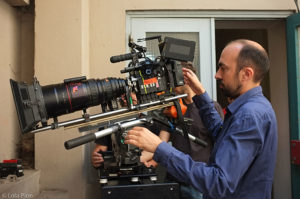 Als es im Vorfeld der Dreharbeiten zu diesem Spielfilm schließlich um die Auswahl der Kamera ging, testete das Kreativteam eine Red Epic Dragon und eine Sony F65.
»Teddy wollte ein sehr scharfes Bild mit vielen Details in den Schatten«, erläutert Poupard. »Red lag in diesem Aspekt vor Sony, denn mit der 6K-Auflösung der Red-Kamera konnten wir schärfere Bilder aufzeichnen. Außerdem ist die Red Epic Dragon deutlich kompakter und leichter als die F65. Wir hatten eine Autoszene und auch Handkamera-Sequenzen vorgesehen und das spielte bei unseren Überlegungen natürlich auch eine Rolle.«
Poupard ergänzt: »Wenn ich in einem kleinen Auto drehe, kann ich mit der Red so arbeiten, als hielte ich einen kleinen Fotoapparat in der Hand, den ich bewegen kann, wie ich will.«
Poupard kombinierte die Red mit Objektiven der Panavision Primo 70 Serie (24-250 mm) und mit einem Angenieux Optimo 24-290 mm Zoom.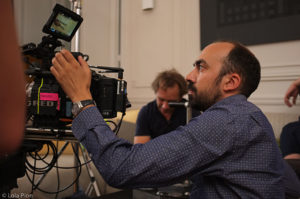 »Diese Kombination war perfekt für den Film«, merkt er an. »Damit konnten wir ein scharfes Bild mit vielen Details in den Schatten, wie in den Highlights erreichen. Ich machte mir etwas Sorgen, weil ich nicht wollte, dass die Haut der Schauspieler zu scharf wirkt. Doch wenn ich einen Diffusionsfilter mit der Kamera genutzt hätte, wäre wieder Schärfe im gesamten Bild verloren gegangen. Während des Drehs habe ich mich dann darauf konzentriert, die Schauspieler nur sehr soft auszuleuchten. Das war mein wichtigstes Ziel — und ich finde, dass die Ergebnisse exzellent sind.«
Die Filmemacher wollten eine große Bandbreite von Kamerabewegungen einsetzen: Im Film gibt es Dolly- und Kranfahrten, Aufnahmen aus der Hand, vom Stativ und es gibt auch die schon erwähnten Zoomfahrten. »Hier wollten wir auf keinen Fall dogmatisch agieren, sondern die Dreharbeiten frei gestalten, je nach Drehtag und den Akltionen der Schauspieler«, erklärt Julien Poupard.
Seite 1: »The Price of Success« – Hintergründe
Seite 2: Auswahl der Kamera
Seite 3: Gestaltung der Bilder, Trailer