Nouvelle Vague reloaded: »The Price of Success«
DoP Julien Poupard weckt bei seiner Kameraarbeit für den französischen Spielfilm »The price of Success« Erinnerungen an die Nouvelle Vague. Mit einer Red Epic Dragon begab er sich auf eine visuelle Reise zwischen den Welten seiner Protagonisten und berichtet von den Dreharbeiten.
Kann man auch heute noch einen Nouvelle-Vague-Film drehen? Zumindest einen Film in dieser Tradition kann man herstellen: Das beweist Regisseur Teddy Lussi-Modeste mit einem neuen französischen Spielfilm, der den englischen Titel »The Price of Success« trägt. DoP Julien Poupard realisierte den Film mit einer Red Epic Dragon.
Die Filme der Nouvelle Vague, die das französische Kino der späten 50er und frühen 60er Jahre prägten, beeindruckten unter anderem mit einer neuen Bildsprache und einer oftmals experimentellen Ästhetik. Jean-Luc Godard etwa, der mit »Außer Atem« einen Klassiker dieser Zeit drehte, setzte auf damals im Kinofilm noch relativ neue und ungewöhnliche Gestaltungselemente wie Jump Cuts, Handkamera und collagenartige Bilder.
»The Price of Success«: Story, Team, Vorüberlegungen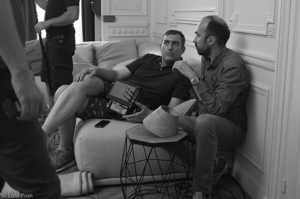 In dem Film geht es um Brahim, einen jungen, erfolgreichen Stand-up-Comedian. Er kommt aus einer Arbeiterfamilie und sein Erfolg zerstört die Beziehung zu seiner Famlie. Bekannte französische Schauspieler haben in dem Spielfilm die Hauptrollen übernommen: Tahar Rahim, Roschdy Zem und Maïwenn. Für die Kameraarbeit konnte Lussi-Modeste den aufstrebenden Kameramann Julien Poupard gewinnen.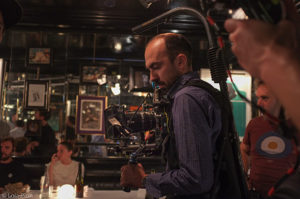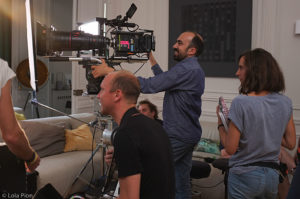 Die beiden arbeiteten schon an der Filmschule zusammen und bildeten für die Arbeit an »The Price of Success« nun erneut ein Team.
Was Poupard in den Vorgesprächen mit Lussi-Modeste an diesem Film besonders reizte, war die Idee, sich in dem Film zwischen verschiedenen Welten zu bewegen: zwischen Vorstadt und Showbusiness, zwischen Backstage und Bühne. Diesen inhaltlichen Kontrast überzeugend zu bebildern, machte sich der Bildgestalter zur Aufgabe.
»Wir wollten, dass die Zuschauer den Kick spüren, wenn man aus dem Schatten ins Licht tritt, in den grellen Schein«, erklärt Poupard. »Wir haben im Vorfeld auch viel über die Filme von Michael Mann geredet, insbesondere über "Heat". Wir bewundern beide die Verwendung langer Brennweiten in diesem Film, aber auch die Mastershots, die gleichzeitig mit Zoom und Kamerabewegung arbeiten. Ich mag das. Man kann in der selben Szene unterschiedliche Dinge erzählen, wenn man die Position der Kamera und per Zoom auch die Brennweite verändert. Im Kino geht es immer auch um die Entfernung zwischen Kamera und Schauspieler. Innerhalb der gleichen Szene auf verschiedene Weise damit zu spielen, ist sehr interessant.«
Seite 1: »The Price of Success« – Hintergründe
Seite 2: Auswahl der Kamera
Seite 3: Gestaltung der Bilder, Trailer