Animago Award kooperiert mit Making Games Conference
Bereits zum dritten Mal findet die internationale Animago Award & Conference rund um die Themen 3D Animation & Still, Game-Design und Visualisierung in München statt. In diesem Jahr kooperiert die zweitägige Veranstaltung erstmals mit der Making Games Conference.
Beide Events finden parallel am 25. und 26. Oktober 2018 im Gasteig statt – einige Vorträge sind für Teilnehmer beider Veranstaltungen zugänglich.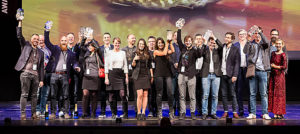 Animago Award & Conference ist Preisverleihung, Fachkonferenz und Fachausstellung in einem und bietet zudem auch Festivalcharakter. Höhepunkt ist die Verleihung des internationalen Animago Award am 25. Oktober, in zwölf Kategorien. Darüber hinaus findet die offen zugängliche Fachmesse Animago Exhibition statt, auf der sich einige der wichtigsten Unternehmen der Branche mit ihren Produkten, neuen Technologien und Services präsentieren.
»Neue Ideen entstehen, wenn wir offen dafür sind, über gewohnte Grenzen hinweg voneinander zu lernen. Erstmalig treffen dieses Jahr die Vorreiter der Animationsbranche auf Ideengeber der Spieleentwicklerszene. München ist mit seiner stark wachsenden Kreativbranche, der Tradition als Filmstadt, als Innovationsstandort und durch seine Internationalität der passende Ort dafür. Hier finden die Kreativen einen besonders fruchtbaren Boden, auf dem Innovationen und neue Darstellungs- und Erzählformen sprießen können.« sagt Dr. Hans-Georg Küppers, Kulturreferent der Landeshauptstadt München.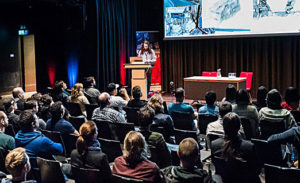 Die Making Games Conference, veranstaltet von der Computec Media Group, legt den Fokus auf die Kreativ-Bereiche der Spieleentwicklung und findet in diesem Jahr zum zweiten Mal statt. Diese Kooperation soll beiden Veranstaltungen einen ganz neuen Mehrwert verleihen. Außerdem wurde der Animago Beirat ins Leben gerufen, der aus Vertretern der Industrie, Wirtschaft und Politik besteht. Hier arbeiten unter anderem Vertreter der Unternehmen NEC, Porsche AG, Trixter München, Red Arrow Studios, ScanlineVFX, Maxon und Esri sowie die Bayerische Staatskanzlei und die Landeshauptstadt München an der Weiterentwicklung des Animago Award & Conference.

Hochkarätige & internationale Keyspeaker sind bereits bestätigt

Die bereits bestätigten Keyspeaker zählen in der Animationsszene zu den Besten ihres Fachs und sollen den Animago Award & Conference zu einem der Höhepunkte des Jahres 2018 machen. Folgende Branchengrößen werden unter anderem Vorträge halten:

Mickael Coedel: Der Senior/Lead Animator von Industrial Light and Magic arbeitete unter anderem zuletzt an den Filmen Star Wars: The Last Jedi, Kong: Skull Island und Bumblebee. Er wird mit dem Vortrag »Define your own path by creating your own luck – navigate successfully in the Animation & VFX industry« auf dem Animago 2018 zu sehen sein.

Mike Hermes: Der erfolgreiche YouTuber & 3D Artist produziert die mitunter angesehensten Tutorials der Branche und erreicht damit eine halbe Millionen Zuschauer jeden Monat. Er spricht über das Thema »Story is King – How to tell a story as a 3D artist without saying a word.«

Jama Jurabaev: Als Senior Concept Artist bei Lucasfilm zählt Jama Jurabaev definitiv zu den besten Concept Artists der Welt und wird sich in seinem Vortrag mit dem Thema »VR for Artists« beschäftigen. Zuletzt arbeitete er an den Filmen Ready Player One und Jurassic World: Fallen Kingdom.