Hardy Steinweg bei Plazamedia
Plazamedia besetzt die neu geschaffene Position Director Products & Fulfillment mit Hardy Steinweg, der von Red Bull Media House kommt.
Plazamedia hat die neu geschaffene Position des Director Products & Fulfillment Anfang November mit Hardy Steinweg (48) besetzt. Steinweg wechselte von Red Bull Media House zu Plazamedia. Er verantwortet in seiner neuen Funktion die Produkte, Services und das Produktionsmanagement und berichtet direkt an Jens Friedrichs, Vorsitzender der Geschäftsführung von Plazamedia.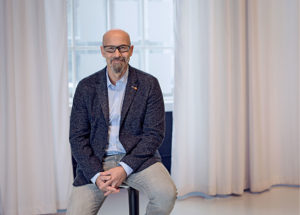 Jens Friedrichs sagt: »Mit der Schaffung der neuen Position tragen wir der Erweiterung unseres Angebotsportfolios Rechnung. Es umfasst neben den klassischen Produktionen auch anspruchsvolle und umfassende Lösungen für unsere Kunden in den Bereichen Content-Handling, Remote Produktion, Connectivity, Online Video Plattform und Cloudservices. Wir freuen uns, dass wir mit Hardy Steinweg für diese Aufgabe einen erfahrenen Manager gewinnen konnten, der in diesen Bereichen über besondere Expertise verfügt. Mit dieser Erfahrung wird er bei Plazamedia die vorhandenen Produkte und Services kundenorientiert weiterentwickeln.«
Hardy Steinweg wechselte von Red Bull Media House zu Plazamedia, wo er in verschiedenen Leitungsfunktionen zuletzt als Head of Global Production Services und zuvor als Head of Technical Operations and Postproduction tätig war. In seiner letzten Position verantwortete er die technischen Anlagen und das Personal der medientechnischen Infrastruktur, die Implementierung und Optimierung relevanter Prozesse sowie Equipment und Teams im internationalen Produktionseinsatz. Voraus gingen Aufgaben als technischer Ingenieur in den Bereichen Eventproduktion, Studiobau, Radio und Übertragungstechnik. Hardy Steinweg hat an der Hochschule für Telekommunikation Leipzig (HfTL) Nachrichtentechnik studiert.