Discreet-White-Paper: Stone Shared
Das englischsprachige Discreet-White-Paper zum Thema »Stone Shared« beschreibt aus Sicht von Discreet, wie SAN-Installationen in unterschiedlichsten Umgebungen aussehen können, welche Anforderungen es dabei gibt und wie Data Sharing und Interoperabilität möglich werden. (Zum Download bitte auf den Dateinamen am Ende des Artikels klicken.)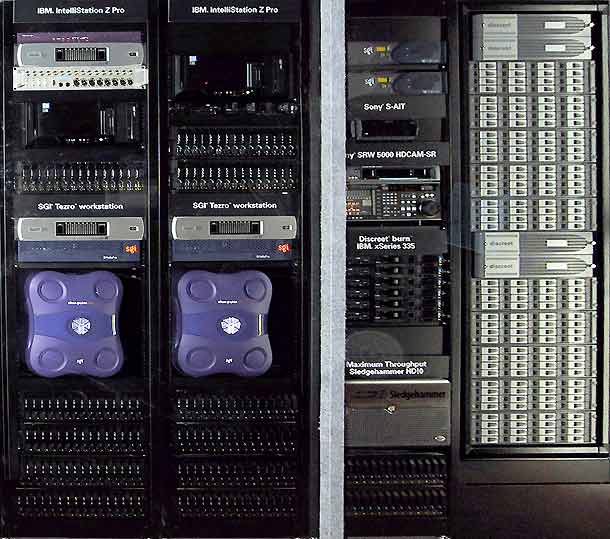 Zur IBC stellte Discreet mit Stone Shared ein Datenspeichersystem vor, das als systemübergreifende SAN-Lösung auf Basis von SGIs CXFS-File-System und DataDirects Networks-Speichersystem konzipiert ist. Stone Shared eignet sich aus Herstellersicht als komplett skalierbares SAN besonders für Film- und Fernsehproduktionen mit hohen Bandbreitenanforderungen und ermöglicht unter anderem den simultanen Zugriff von mehreren Anwendern auf 4K-, 2K-, HD– und SD-Projekte, die an einem zentralen Ort gespeichert sind.
Doch wie sehen Installationen in unterschiedlichen Anwendungsbereichen aus? Wie lässt sich Stone Shared in großen Postproduktionshäuser aufbauen? Welche Bandbreitenanforderungen haben die unterschiedlichen Formate? Das White Paper beantwortet diese und viele weitere Fragen.
Natürlich beschäftigt sich das White Paper auch mit spezifischen Discreet-Themen, beschreibt etwa, wie sich einzelne Discreet-Systeme in ein Stone Shared SAN einbinden lassen und wie typische Workflows aussehen können. Große Teile des White Papers sind jedoch nicht nur für Discreet-Anwender interessant, sondern auch für all jene, die sich generell mit dem Thema SAN-Installationen auseinander setzen.
Die Themen des Discreet-Papers im Überblick:
High Performance Collaboration:
– Digital Intermediate (Feature Film Production)
– Advertising (commercials, music videos and effects)
– Television (SD/HD Episodics, News)
Interoperability and Data Sharing:
– Media and Meta-Data
– Open access in Discreet solutions
– Soft-Import and Publish
– Asset Management
Stone Shared Overview:
– Benefits
– Connectivity
Stone Shared Technology:
– stone shared Hardware Infrastructure
– Traditional SAN technologies
Stone shared technology & features:
– Bandwidth Reservation and CXFS GRIO
Das White Paper »Stone Shared« steht mit freundlicher Genehmigung von Discreet als PDF bei www.film-tv-video.de zur Verfügung. Zum Download bitte auf den Dateinamen am Ende des Textes klicken.
Downloads zum Artikel: