Filmtipps für das 34. Dokfest München 2019
Am 8. Mai 2019 begann das 34. Internationale Dokumentarfilmfestival München. 159 Filme aus 51 Ländern gibt es zu sehen.
Der Doku-Kameramann Hans-Albrecht Lusznat hat einige Filme schon gesehen und gibt hier seine ganz persönlichen Tipps ab.
The Whale and the Raven [Umwelt]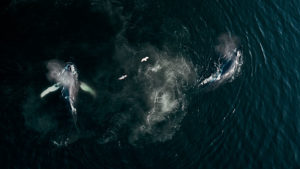 Verschiedene Wal-Gruppen ziehen sich in die Hardley Bay an der Westküste Kanadas zurück, weil sie hier ungestört vom Schiffsverkehr sind. Vor Ort gibt es seit 15 Jahren eine Beobachtungsstation mit zwei Wissenschaftlern, Janie Wray und Hermann Meuter. Jetzt soll am Ende der Bucht eine Station für das Umfüllen von Flüssiggas in Tankschiffe entstehen.
Es ist einer der wenigen Filme, in dem die Drohnenaufnahmen wirklich unablässig sind, um die Dimensionen zu begreifen und zu sehen, was da zerstört werden soll.
Where man returns [Fremde Welten]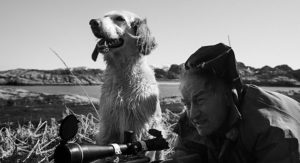 Der alte Mann, ein Hund und das Meer – sonst nichts. Steinar, 75 Jahre alt, lebt mit seinem Hund Tussi an der norwegisch/russischen Grenze, allein, in einer Gegend, die nicht zum Verweilen einlädt. Die 72 Filmminuten sieht man nur ihn, Landschaften, aber keine anderen Menschen. Nichts wird erklärt, alles muss sich aus den Bildern erschließen, die Kamera ist nicht da, und wenn Steinar spricht, dann mit sich selbst oder dem Hund. Der ist eines Tages verschwunden, und als man Steinar mit einem Spaten im Wald ein Loch graben sieht, weiß man, dass der Hund gestorben ist. Der alte Mann lebt vom Fischen, von Robben und von Früchten, die er sammeln kann, wenn es denn welche in der kurzen Sommerzeit gibt
Gedreht in eindrucksvollen schwarz-weiß Bildern im Cinemascope-Format fordert der Film vom Zuschauer Aufmerksamkeit, und wer sich darauf einlässt, wird durch ein einzigartiges Filmerlebnis belohnt.
Seite 1: Einleitung
Seite 2: Push, Die Rote Linie, Woodstock
Seite 3: Putin's Witnesses, Bauliche Massnahme, Master of Disaster, 100 Million Views
Seite 4: Bellingcat, Rockabul, O'pflanzt is, The Whale and the Raven, Where man returns
Seite 5: Sie ist der andere Blick, Shooting, Die Grube, Gruyaert, War of Art
Kein Story mehr verpassen? Einfach hier den Newsletter abonnieren.