Project Raven: Neue Möglichkeiten für Echtzeit-Compositing und AR
Der Spielehersteller Epic, das Postproduction-Haus The Mill und Chevrolet stellen die AR-Produktion »The Human Race« vor: einen »Echtzeit-Film« der unter Einsatz der Software Unreal Engine von Epic möglich wird.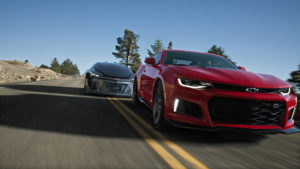 Es gibt viele Begriffe, mit denen derzeit operiert wird, um zu beschreiben, was mit neuen Technologien aus dem Schnittbereich zwischen Games- und Videotechnologie möglich wird: Echtzeit-Compositing, Live-CG, Realtime-VFX, Augmented Reality und noch etliches mehr.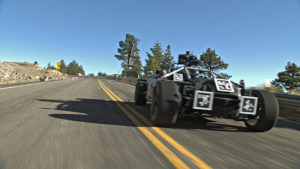 Es wird nach Schlagworten gesucht, die den Vorgang beschreiben, wenn Realbilder in Echtzeit fotorealistisch mit computergenerierten, virtuellen Objekten kombiniert werden. Fotorealistisch heißt dabei, dass etwa auch Lichteinfall, Spiegelungen und Schattenwurf so gut passen, dass man letztlich nicht mehr erkennen kann, was Realaufnahme ist und was in Echtzeit aus dem Rechner kommt.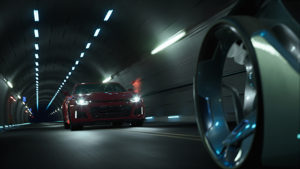 Hier ist natürlich die digitale Spieleindustrie der Treiber und es werden Technologien aus eben diesem Bereich mit Stereo-3D-Bildverarbeitung, Tiefen-Keying, Tracking, Stanztricks und Compositing kombiniert — also bisher klassisch in der High-End-Postproduction angesiedelten Techniken: Aber eben mit dem Ziel, alles in Echtzeit zu realisieren, also letztlich live-fähig umzusetzen.
Technologiefirmen wie Vizrt und Ncam sind hier am Puls der Zeit. Ncam etwa zeigte hierzu im Rahmen der NAB2016 sehr beeindruckende Technologiedemos (Video). Ein sehr interessantes Preview-System kommt von den schwedischen Stiller Studios (Video).
Nun setzt eine Produktion neue Maßstäbe, die das britische Posthaus The Mill mit eigener Software und unter Einsatz der Spielentwickler-Software Unreal Engine des Games-Herstellers Epic für den Autohersteller Chevrolet realisiert hat.
Seite 1: Einführung
Seite 2: Project Raven, Making-of-Video
Seite 3: Neue Technologien am Set und in der Post
Seite 4: Mehr als ein Werbespot