20 Jahre Broadcast Solutions
Broadcast Solutions feierte mit seinem Innovation Day am Hauptsitz in Bingen das 20jährige Bestehen des Unternehmens.
Einige Impressionen von den Panel-Diskussionen am Broadcast Innovation Day 2023 in Bingen.
Panel-Diskussionen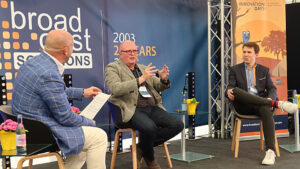 Überdies gab es zwei Panel-Diskussionen zum Themenbereich Centralized/Cloud-Production-Centers. Die Panels wurden von den Gästen mit Interesse verfolgt.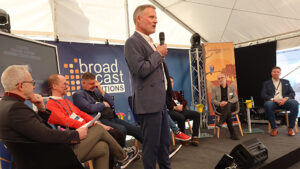 Beim ersten Panel wurden Moritz Mücke, Head of Product and Technology von Dyn Media, und Peter van Dam, CTO von Saudi Sports Channel, durch Moderator Chris Redmond zu ihren Ansichten und Einschätzungen zum Themenbereich Centralized/Cloud-Production-Centers befragt.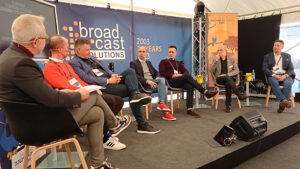 Beim zweiten Panel — moderiert von Ronald Meyvisch — diskutierten die Produktionsdienstleister Mats Berggren, COO von DMC Norway und Christer Pålsson, President von NEP Europe, mit den Herstellervertretern Thomas Riedel, Group-CEO von Riedel Communications, Alex Redfern, CTO von EVS, und Klaus Weber, Director Camera PLM von Grass Valley, mit Antti Laurila, Chief Strategy Officer von Broadcast Solution, der die Systemintegratorseite repräsentierte.
Seite 1: Einleitung
Seite 2: Produkte und Entwicklungen
Seite 3: Wichtige Milestones
Seite 4: Broadcast Innovation Day
Seite 5: Panel Diskussionen
Seite 6: Fazit